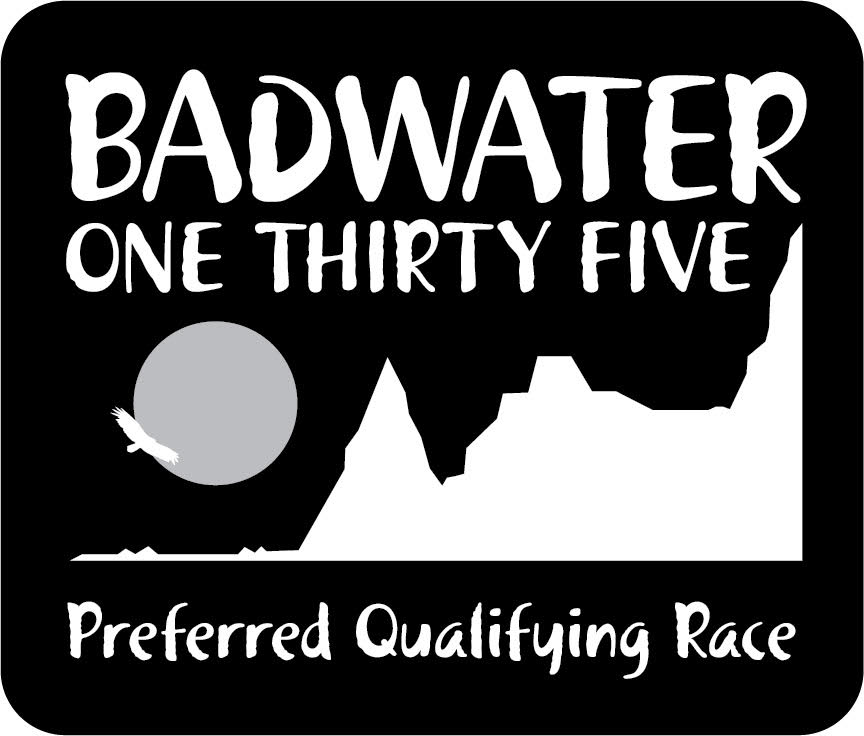 CGG 155 Mile Ultra is now a Badwater 135 Mile Ultra Preferred Qualifying Race!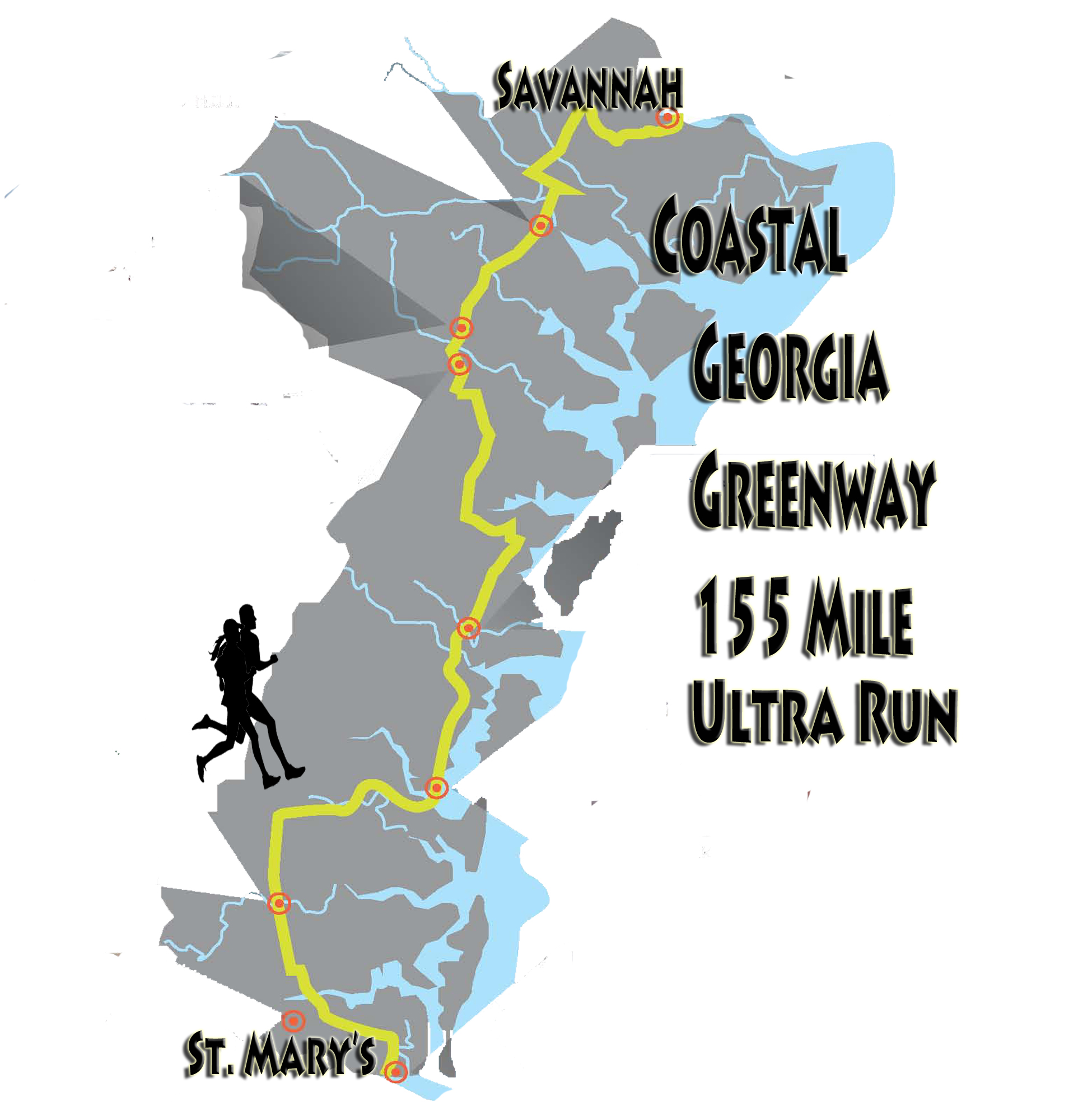 The CGG 155 came to fruition in 2015 by a group of Rough Runners from Savannah, Ga. We were fascinated by the aspect of an envisioned long corridor of trails and green space spanning the coast of Georgia from St. Mary's to Savannah, Ga. The visionary for the Coastal Georgia Greenway is Ms. Jo Claire Hickson. She's worked hard for the past twenty years trying to bring to fruition her vision of the CGG. The more the CGG is promoted, the greater the impact it will have on it coming to fruition. Every year in March, we hold a race to promote and help bring this dream to reality.

The CGG is comprised of 20% trails and 80% highways. Obviously, we would like the CGG to be all on trails, but currently, we have to deal with highway running mostly.
Race Info:
The CGG 100/155 mile ultra starting location alternates every year now.
In 2023, the CGG 155 starts on Friday, March 3rd at 5:00 am at the steps leading to the Savannah river on Hutchinson Island, in between the Savannah International Convention Center and the Westin Hotel. The race ends in St. Mary's, GA at the Howard Gilman's Memorial Waterfront Park, on the grassy area in front of the amphitheater.
Mapmyrun155 has a course map: 2023 Course Map (Savannah to St Mary's)
Digital version of the cgg 155 mile ultra course booklet cgg1552020_sav-stmary
The CGG 100 start for 2023 is at America's Smallest Church, Townsend, GA 31331
Mapmyrun 100 course map: 2023 CGG 100 mile ultra course map
Digital copy of the CGG 100 booklet: cgg1002022_converted                                    

How to import a MapMyRun course into your Garmin: mapmyrunTOgarmin
Time-Limits:
The maximum time frame for the CGG 155 is 60 hours.                                                                                

The maximum time frame for the CGG 100 is 34 hours.         

Both races end at the same location, St. Mary's Howard Gilman Memorial Waterfront Park, 100 W. St. Mary's St, St. Mary's, GA 31558 at 5:00 pm.
For the CGG 155, runners will run through nine towns, fifteen jurisdictions, and six counties.
For the CGG 100, runners will run through six towns, twelve jurisdictions, and four counties.                                

CGG runners may have a pacer after completing fifty miles.
Mandatory Check-in aid stations
checkpoint 1: 29.7 mile mark. King's Ferry Boat Ramp 6820 Chief Of Love Rd, Savannah, GA 31419, Chatham County
checkpoint 2: 46.3 mile mark. Midway Congregational Church, 215 Martin rd, Midway, Ga 31320
checkpoint 3: 62.2 mile mark. Smallest Church in America, Townsend, GA 31331
checkpoint 4: 87.68 mile mark. 103 Ft King George Blvd, Darien, GA 31305. 
checkpoint 5: 104.58 mile mark. Harold Jennings Wellness Park, Brunswick, GA 31520.
checkpoint 6: 132.5 mile mark. Satilla Waterfront Park and Boat Ramp
Approximate miles between check-in stations:
Chatham County is 31 miles away.
Bryan County, 9.34 miles
Liberty County, 18.28 miles
McIntosh County, 29.44 miles
Glynn County: 26.48 miles.
Camden County, 40.89 miles.
Buckles are only awarded when you complete the distance you registered for. Runners will be given their buckles upon finishing their race.
There are no drop downs allowed from CGG 155 to CGG 100.
All runners will receive a course booklet that you must present to the RD's at every mandatory check-in. At each mandatory check-in, you will receive a stamp in the booklet.
At the mandatory check-ins, there will be basic aid station supplies such as gels, water, fizz, and some food. Runners are responsible for their own nutrition.
Runners or their crews are to give a status report on their runner every six hours, informing Dan Hernandez of the runner's location and status. Please text Dan's phone: 912.777.9147
You must have a support crew for either distance you choose to run.
Support teams must not obstruct traffic whatsoever. Runners and support teams are expected to respect private property and follow all Georgia traffic laws; failure to do so will cause disqualification.
Littering will not be tolerated. So, don't litter or you're in big trouble! All Rough Runners events are cup free. You must bring your own water bottle.

For any life threatening emergency please call 911.
Runner or runner's crew chief must check every six hours by text message or phone call.
Runners must check in at every mandatory check in station.
Provide race personnel your phone number and crew phone numbers.
If you plan to take a break and spend the night during the duration of the race you must reach any of the mandatory check-in aid stations and inform us that you are leaving the course. You may then board a car and leave the course. Also, let us know when you plan to return so that we may have someone at that check in station upon your return to the race. When you return to the race you must return to the aid station you last checked in at.
At any point during the race feel free to contact race personnel if you have any questions/problems/concerns.
If you plan to end your race notify race personnel before doing so.
Do not obstruct traffic! Your crew must park well off the road when supporting you.
Please be mindful and respectful of private property.
Do not litter.
Run against traffic or on the sidewalk as much as you can.
You must wear a reflective vest and, headlamp or other light device a half hour before dusk and continue to do so until a half hour after sunrise.
You must carry this booklet the duration of the race.
not