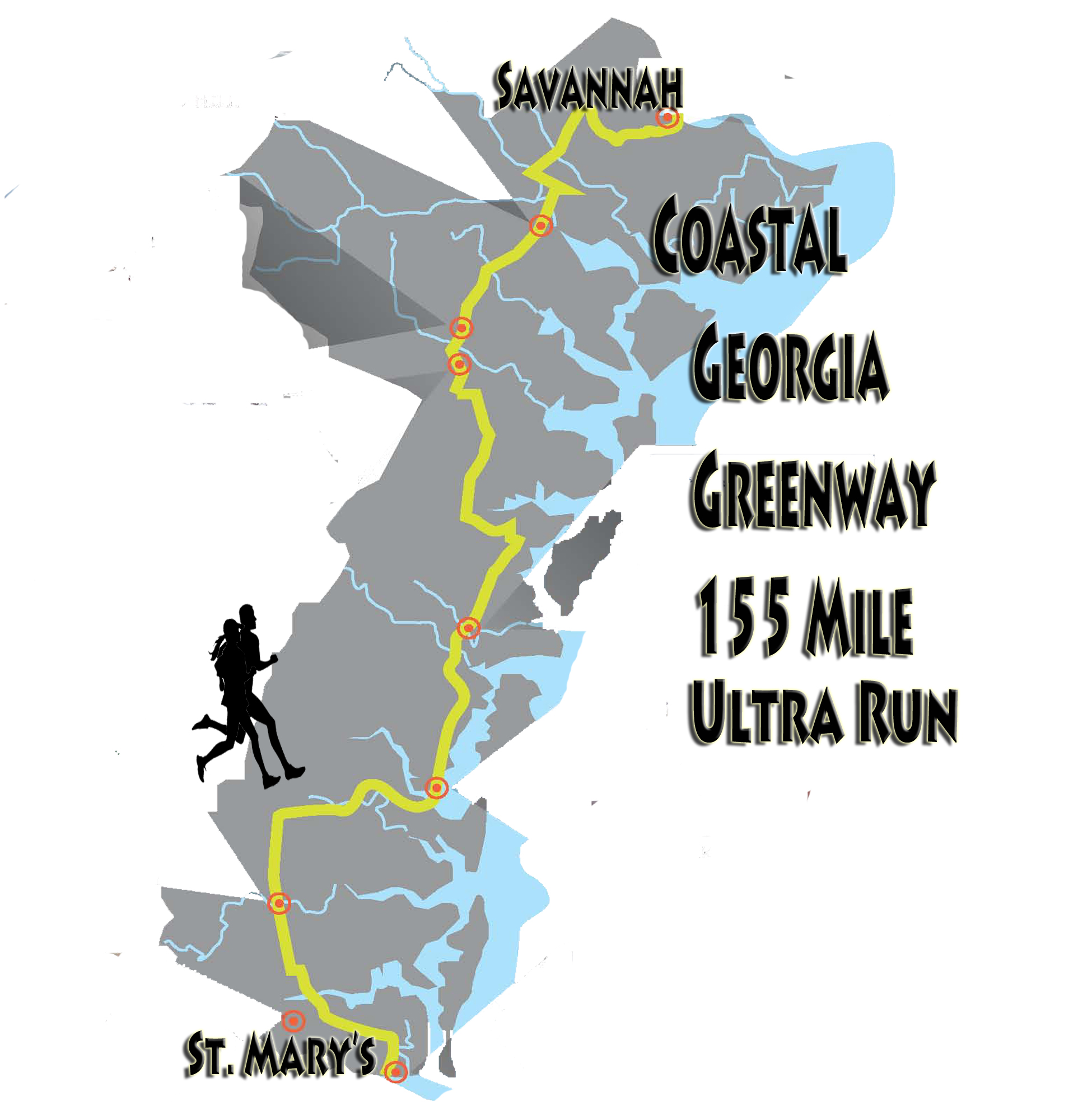 Welcome to the Coastal Georgia Greenway 155 Mile Ultra Run (CGG 155) website!
This run came to fruition in 2015 by a group of friends from Savannah, Ga that were fascinated by the aspect of an envisioned long corridor of trails and green space spanning the coast of Georgia from St. Mary's to Savannah, Ga.  The visionary for the Coastal Georgia Greenway is Ms. Jo Claire Hickson.  She's worked hard for the past twenty years trying to bring to fruition her vision of the CGG.  Our way of helping her realize her dream and vision is to host an annual  long run every April called the CGG 155.  The more the CGG is promoted the greater the impact it will have on it coming to fruition.
Currently, the CGG is comprised of 20% trails and 80% on highways.  Obviously, we would like the CGG to be all on trails but currently, we have to deal with highway running mostly.
In 2018, the CGG 155 will be opened to 15 solo runners and four relay teams comprised of 12 runners per team.  So, that's 48 relay runners total.

The maximum time frame for the CGG 155 Challenge is 60 hours.
Date of the event: Friday, March 31 – Sunday, April 2, 2018.
Time start: 7:10 am, Friday, March 30, 2018.
Time end: 7:10 pm, Sunday, April 1, 2018.
Registration fee:
Solo Runners: $250
Relay Runners: $1000 per team. Teams must be comprised of 8-12 runners.
Every runner will get a course map booklet which they must carry for the duration of the run. The 2017 booklet is available for download as reference —> cgg2018
The run begins on Hutchinson Island and ends at St. Mary's, Ga. which is on the border with Florida.  By the time you complete the run you will have run through nine towns, fifteen jurisdictions and six counties.
Mandatory check-in
Mandatory check in's are where drop bags are held for runners. Your race booklet will be stamped at each mandatory check and your time will be checked. You will also be weighed at each check in.  Relay runners trade off at the mandatory county check in's.
There will be 6 mandatory check in's, one in each county!
Hutchinson Island, in front of International trade center.Chatham County aid station. mile 0, starting line
Bryan County aid station, mile 29, Ogeechee river and Love's
Liberty county aid station, mile 45-46, hwy 17 & Martin road in Midway
McIntosh county aid station, mile 58.1, Smallest church in America, Townsend, GA 31331
Glynn county aid station
Camden county aid station, Satilla River Waterfront Park, Woodbine, GA 31569
Aid Assistance Areas
Only in the following locations may you offer aid to your runner. If it is reported that aid has been offered outside of these areas that runner will be penalized.  The party providing aid must not obstruct traffic whatsoever!  The runner receiving aid must be completely off the road or trail.  Do not litter.  Respect private property.
Pine Barren rd and Morgans Corner rd in Pooler (Chatham cty)
Chief of Love rd in Richmond Hill (Bryan cty)
Smallest church in America (McIntosh cty)
Pine Harbor rd and highway 17 (McIntosh cty)
Highway 17 and GA hwy 99 (McIntosh cty)
Water Front Park, Darien, 103 Fort King George dr (McIntosh cty)
Charlie Gibbs Way and Hwy 17 (Glynn county)
Mackay dr and Hwy 17 (Glynn county)
Higginbotham rd and hwy 17 (Glynn county)
Hwy 17 and S Palm dr (Glynn county)
Hwy 17 and E 3rd st (Glynn county)
Hwy 17 and Hopkins av (Glynn county)
Hwy 17 and Conservation Way (Glynn county)
Hwy 17 and Frontage dr (Glynn county)
hwy 17 and Dungeness dr
hwy 17 and Hyde Park Commons
Waverly Mart, Hwy 17 and Horsestamp Church rd (Camden cty)
Hwy 17 and Op Ln (Camden cty)
Hwy 17 and Morris rd (Camden cty)
Hwy 17 and Providence Church rd (Camden cty)
Burnt Fort rd and McKinnon rd N (Camden cty)
Hwy 17 and Chaney rd (Camden cty)
Satilla River Waterfront Park, Woodbine (Camden cty)
Liza Rudolph rd (Georgia Coast Rail Trail) junction (Camden cty)
Hwy 17 and Old Jefferson hwy (Camden cty)
Solo Runners:
Solo runners must run the entire course by themselves. You may have a pacer after you are past Chatham and Bryan counties. You may pick up your pacer in Liberty County at the World's smallest church mandatory check-in for all runners. Pacers may only be added at the mandatory check-ins.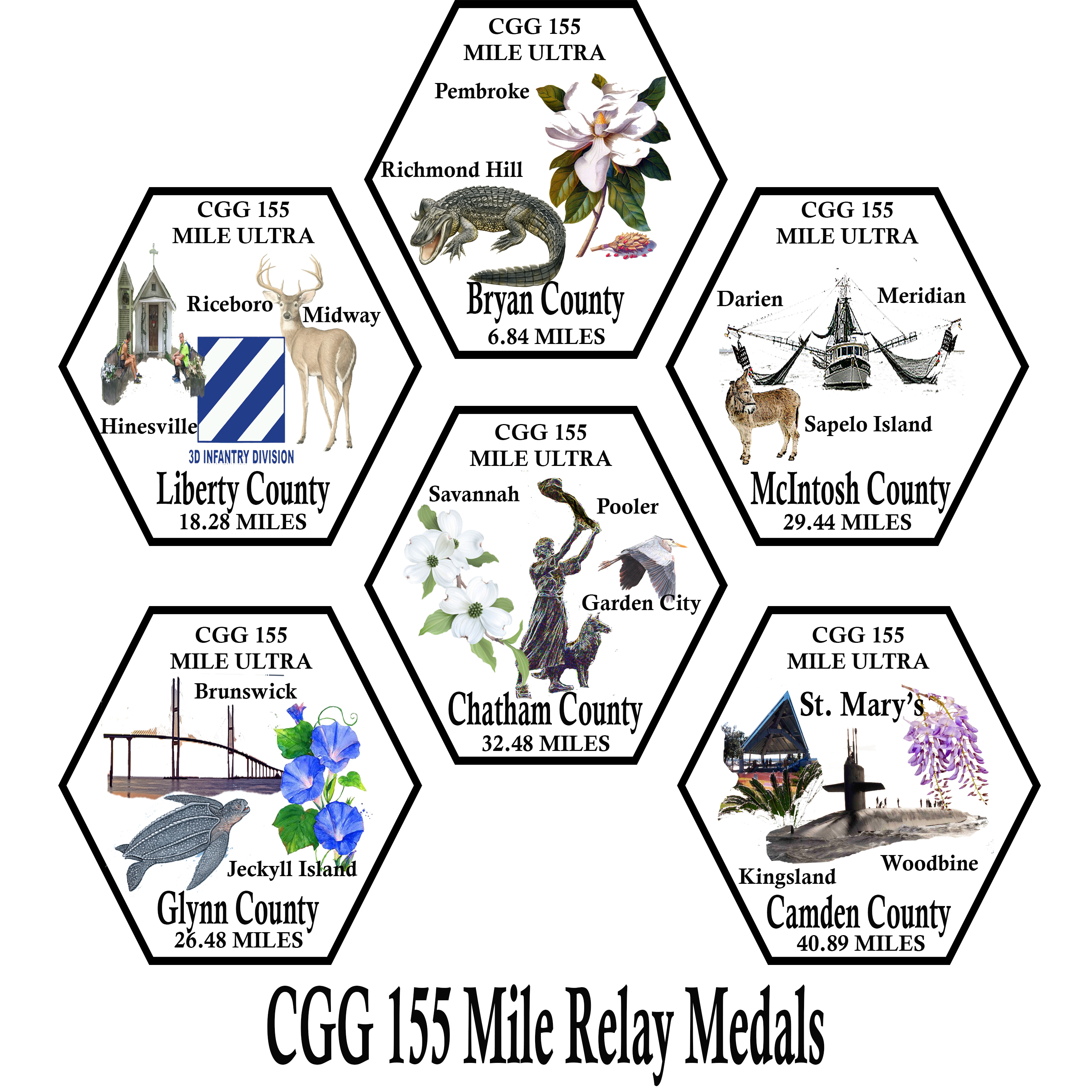 Relay Runners:
Each team must have at the very least 8 runners and no more than 12 runners. At all times during the CGG 155 mile ultra run relay teams must have two runners running together. The relay distances are designated per county. Two of your teammates run together one county and then hand off the baton to the next set of two runners for the next county. County distances vary. So, assign your runners their counties accordingly.
County breakdown:
Chatham County: 29.98 miles
Bryan County: 9.34 miles
Liberty County: 18.28 miles
McIntosh County: 29.44 miles
Glynn County: 26.48 miles
Camden County: 40.89 miles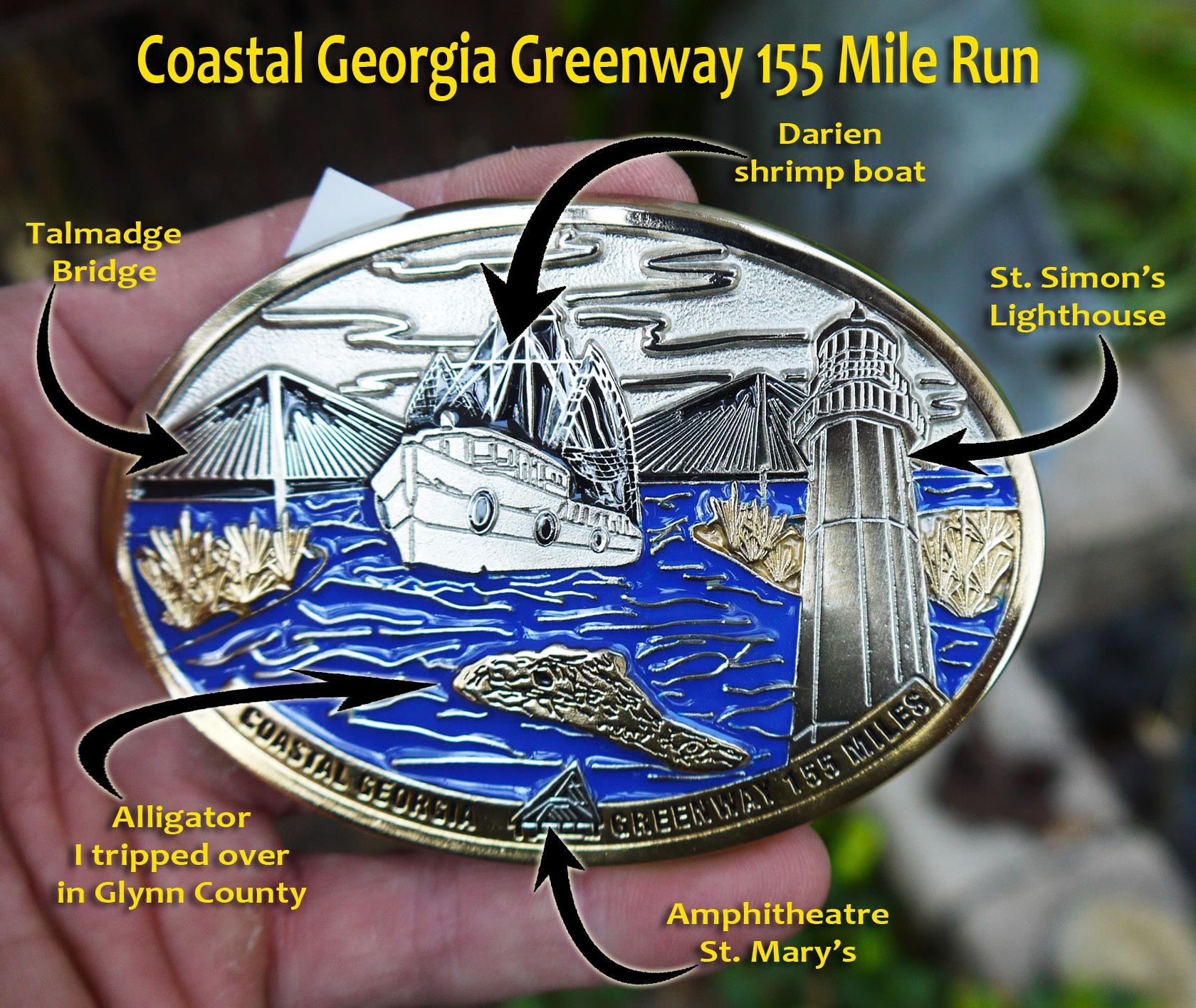 Race Amenities:
You will be given a ride to the start of the run on Hutchinson Island, if you need one.  You will also be given a ride back to your hotel/home after the run concludes in St. Mary's.
Breakfast will be provided in the morning before the run.  At the end of your run, breakfast, brunch or lunch will also be provided.
The race swag includes a performance cap. All solo registered runners get this.
When you complete the run in the 60 hour window, you will be given a belt buckle. This is applicable only to the solo runners.
Each relay runner that completes her leg of the run will get a medal designating the county she ran in.  There are six different county medals.
You must provide us a drop bag(s) for each cache location prior to the start of the run and we will ensure those drop bags are waiting for you at the predetermined locations.  Your used dropbags will also be waiting for you at the finish line.
You will also receive a printed booklet of the entire course on waterproof paper. This booklet will cover the entire course with mile designations, convenient stores|restaurants|gas stations along the way.  We will try to have store hours operations available too.