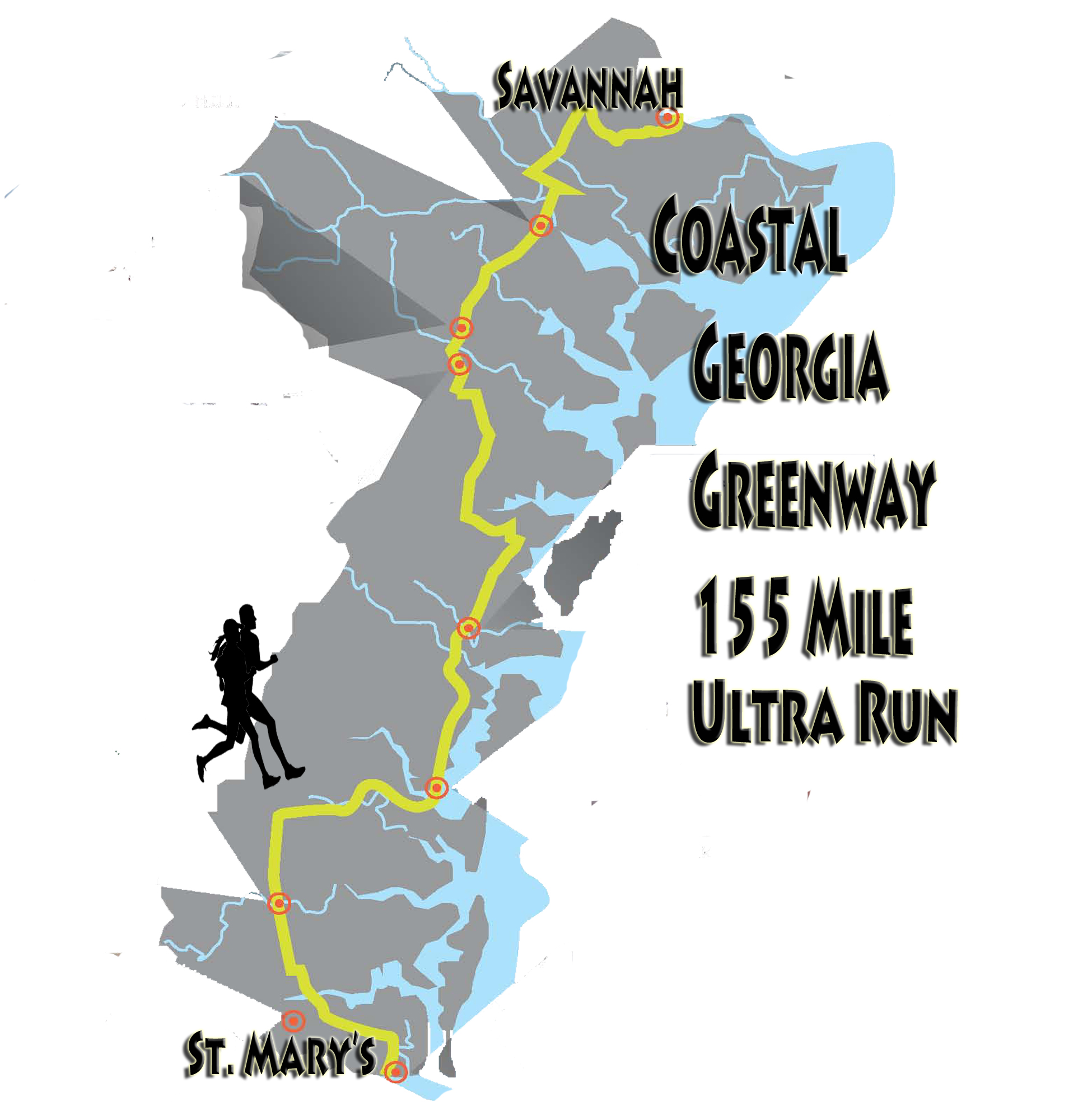 USATF Event Sanction Application – Approval Confirmation
USATF Control Number: 19-45-001
USATF Georgia Sanction Number: 19-45-001
Coastal Georgia Greenway 155 – Savannah, GA – 3/29/2019 to 4/1/2019
19-45-001; Road race; Georgia Assoc.
The CGG 155 came to fruition in 2015 by a group of friends from Savannah, Ga that were fascinated by the aspect of an envisioned long corridor of trails and green space spanning the coast of Georgia from St. Mary's to Savannah, Ga. The visionary for the Coastal Georgia Greenway is Ms. Jo Claire Hickson. She's worked hard for the past twenty years trying to bring to fruition her vision of the CGG. Our way of helping her realize her dream and vision is to host an annual long run the last weekend of March called the CGG 155. The more the CGG is promoted the greater the impact it will have on it coming to fruition.
Currently, the CGG is comprised of 20% trails and 80% on highways. Obviously, we would like the CGG to be all on trails but currently, we have to deal with highway running mostly.
The maximum time frame for the CGG 155 Challenge is 60 hours.
Date of the event: Friday, March 29 – Sunday, March 31st.
Time start: 7:10 am, Friday, March 29, 2019.
Time end: 7:10 pm, Sunday, March 31, 2019.
The run begins on Hutchinson Island and ends at St. Mary's, Ga. which is on the border with Florida. By the time you complete the run you will have run through nine towns, fifteen jurisdictions and six counties.
Solo Runners:
Solo runners must run the entire course by themselves. You may have a pacer after you are passed Chatham county. You may pick up your pacer Chatham-Bryan county check-in, King's Ferry. Pacers may only be added at the mandatory check-ins.
Relay Runners:
Each team must have at the very least 6 runners and no more than 7. The relay distances are designated per mandatory check-in stations. There are 7 mandatory check-ins.
The baton hand-off is done at each mandatory check-in (starting with mile marker 0). Relay runners may run more than one county.
Check-in station's distances vary. So, assign your runners their counties accordingly.
1. mile marker 0: Hutchinson Island, start line
2. mile marker 29: Chatham-Bryan Check-in station, King's Ferry
3. mile marker 45: Liberty county-Midway (cemetery)
4. mile marker 58: McIntosh county-Smallest Church in America
5. mile marker 83: Darien Waterfront Park
6. mile marker 101: Glynn county-Windsor Park, Brunswick
7. mile marker 129: Camden county-Satilla River Waterfront Park, Woodbine
Miles between check-in stations:
From 1 (Hutchinson island) to 2 (King's Ferry): 29 miles
From 2 (King's Ferry) to 3 (Midway, cemetery) : 16 miles
From 3 (Midway, cemetery) to 4 (McIntosh county, smallest church) : 13 miles
From 4 (McIntosh, smallest church) to 5 (Darien waterfront park): 25 miles
From 5 (Darien waterfront park) to 6 (Glynn county, windsor park): 18 miles
From 6 (Glynn county, windsor park)  to 7 (Camden county, satilla river waterfront park, woodbine): 28 miles
From 7 (camden cty, satilla waterfront park) to finish: 26 miles
County breakdown:
Chatham County: 29.98 miles
Bryan County: 9.34 miles
Liberty County: 18.28 miles
McIntosh County: 29.44 miles
Glynn County: 26.48 miles
Camden County: 40.89 miles
You will be given a ride to the start of the run on Hutchinson Island, if you need one. You will also be given a ride back to your hotel/home after the run concludes in St. Mary's.
Buckles are only awarded to solo runners. Solo runners will be given their buckles upon finishing the CGG 155.
Relay runners are awarded medals designating the county they ran through. Each teammate of the winning relay team will each receive a plaque with all of the teammates names on it and, their finishing time.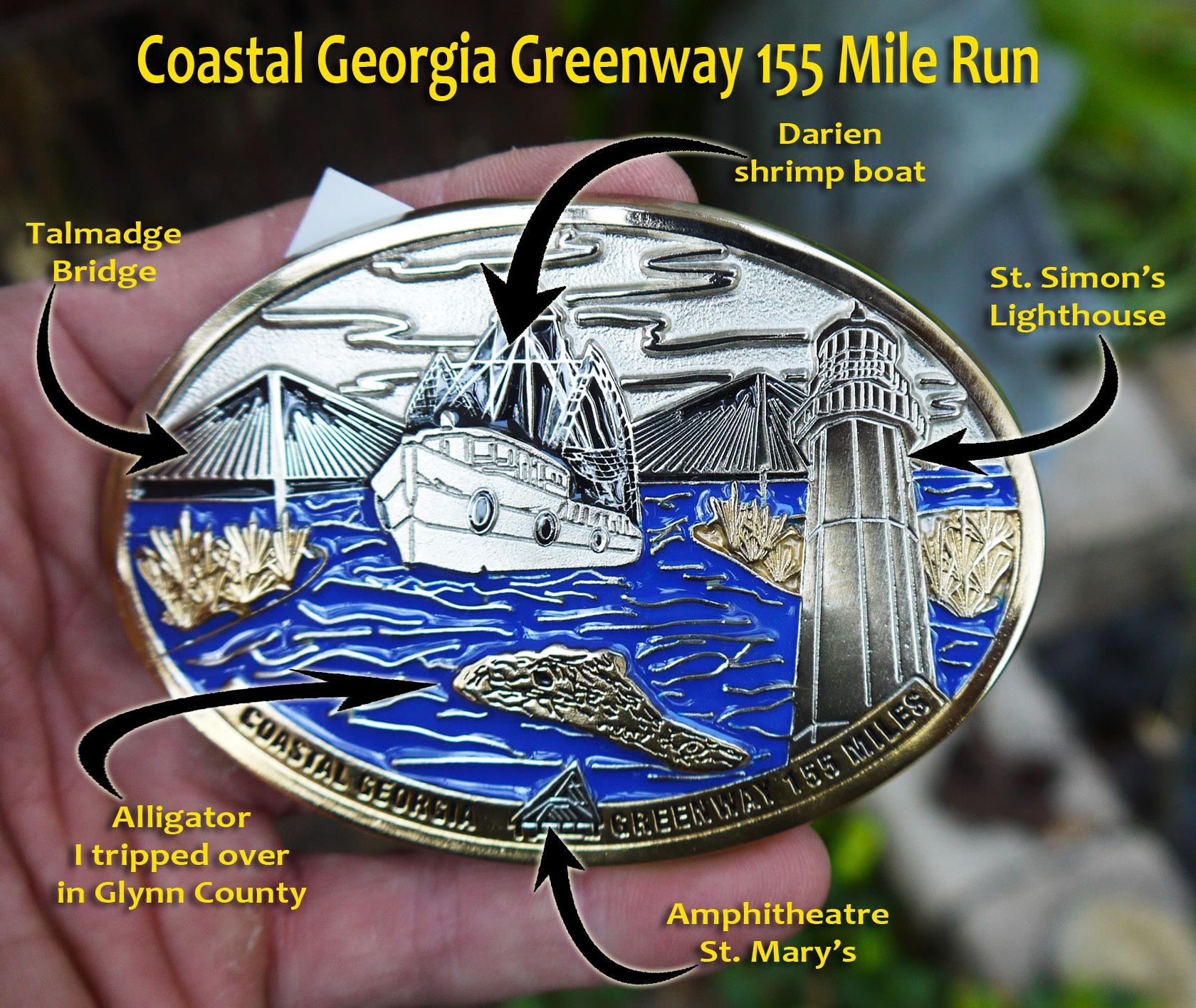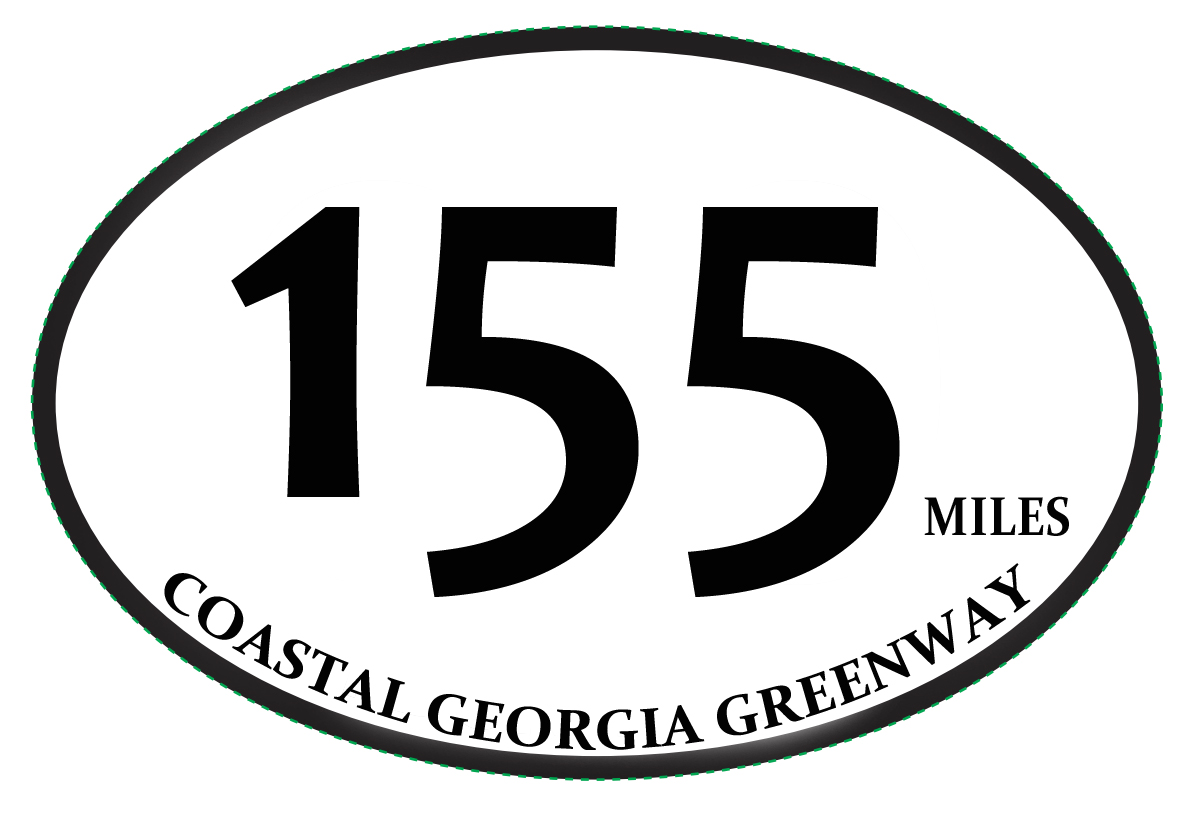 the cgg 101 mile course from America's smallest church in Townsend, Ga 31339 to St. Mary's, Ga Howard Gilmore Waterfront Park