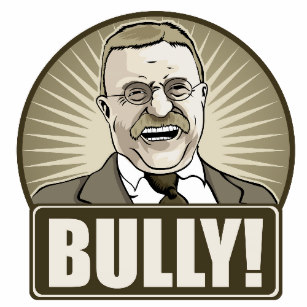 July 1st is the start of the Bully Challenge.  What exactly is this?  Its just a six month friendly competition of fitness.
On Sunday, July 1st, start keeping tabs of the reps, distances and times of the following exercises.  And, every Sunday, jot down those numbers on the google drive spreadsheet linked here under the correct week: Bully Challenge
Running miles
Rowing miles (kayak, rower machine, canoe)
Biking miles
Swimming miles
SUP (stand up paddle board)
walking miles
push ups
situps
pullups
burpees
squats
planks
mountain climbers
lunges
You do NOT have to do all of the exercises listed above.  Pick the ones you want and go with those.  The key of this challenge is to exercise and keep tabs of the exercises you choose to do and compare with the others in this challenge.
Every week whoever leads in any of the exercises listed will get a bully (Teddy Skull) added to his profile picture.  Yes, we need a profile picture! Send that picture to me (Dan Hernandez [email protected]).  I'll add the bully to your profile and post it on the Run 4 a Reason Facebook Group Bully Challenge 2018 photo album.
The Bully Challenge officially ends December 8th.  December 9th, we'll announce the overall winner on Facebook.  The overall winner will be the one that has acquired the most bully's.  We'll also recognize all of the miles logged running, biking, swimming, rowing, walking, SUPing.
Also, if you're a local (local to Savannah), you will be awarded a free pitcher of beer (or cider) and, a slice of pizza from Huccapoos or Mellow Mushroom (we cannot seem to decide on the pizza joint yet).
Also, the top three Bully earners get extra points for the Rough Runners Trail Race Series
 top gets 15 points
second gets 10 points
third gets 5 points
Everyone else that partakes of the challenges gets 1 point toward the RR Trail Race Series
Even if you live far away you may still partake of the challenge (you just don't get the beer or pizza…sorry). You'll get the accolades, though, especially, if you win. 🙂
You are responsible for entering your personal data into the google spreadsheet linked above.  We are all under the honor system…so, don't cheat!  And, don't mess with anyone's results.  Capiche?
If you have a question, just shoot me an email or message.  Again, my email: [email protected]
Happy killing it out there!
peace,
dh
FAQ:
for Situps exercise, you may do crunches, bicycle kicks, whathaveyou. For bicycle kicks, one set of both legs equals 1 rep!  Does that make sense?  Its not, that you do one side and count 1 and then the other side and count 2.  One set of both sides of the bike kick is one rep.
for lunges, a rep of the right leg and, the left leg equals 1 rep!  You do not count each leg you lunge as a rep…a set of both legs equals 1 rep.
The same thing as lunges applies to mountain climbers.  a set of both legs counts as one rep.
you may do planks however you like and still count down the seconds and minutes.  There is not just one way to plank.
for pull ups, you may do chin ups instead…whatever works for you.  If you cannot do a pull up but want to, start off with negatives and slowly let yourself down.  Do approximately 8-10 negative pull ups every time you go at it.  Eventually, you will be able to pull yourself up.
you may apply your steps that you do through out the day in the "walking miles" entry on the spreadsheet.  Here is a link to a Steps to Miles Calculator  
Biking is the same as the walking miles.  If you bike to work, count those miles.  Your training miles on the road or stationary, – count those miles.
Challenges
through out the six months we'll will have challenges to keep us motivated and striving for more.  These challenges will include one or several of the list of exercises listed at the top of this page.  If you meet any of the challenges you will get a special bully added to your profile picture.
Here are some of the challenges to keep in mind and to begin when you're hungry for it…
200 mile run in 1 month.  shoot for 200 miles in 30 days.
50,000 meter rowing in 30 days.
5000 push ups in 30 days
1000 burpees in 30 days
800 miles cycling in 30 days
5000 squats in 30 days
30 miles swimming in 30 days
500 minutes of planks in 30 days
500 pull ups in 30 days
150 miles of walking in 30 days
5000 lunges in 30 days
I will have some cool stickers made for each of the aforementioned challenges but I will have to charge a $5 fee for each sticker.  You do not have to buy challenge stickers but if you want one you will have to pay for it.  That cool?