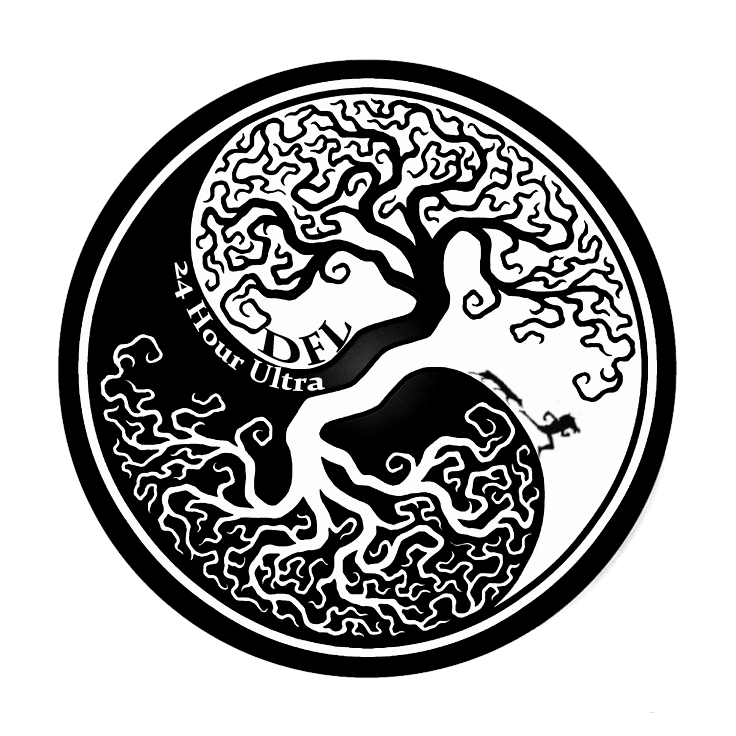 Dear DFL Runners,
Thank you so much for helping us send off DFL on such a positive note! It was a great pleasure meeting so many of you! I wish all that had registered could of made it to this event. Saturday, June 20th was a spectacular day to run for hours on end. A few days before the race I feared that the harsh weather coming the day before the race would wreak havoc on the trail course but thankfully, the damage was minimal.
This was the last year for this race. With a heavy heart we are bidding it farewell. In the future, we may bring back another 24 hour running format but more than likely it will be at another location and, at least, not for another two or three years. In any case, it will be by a different name as well.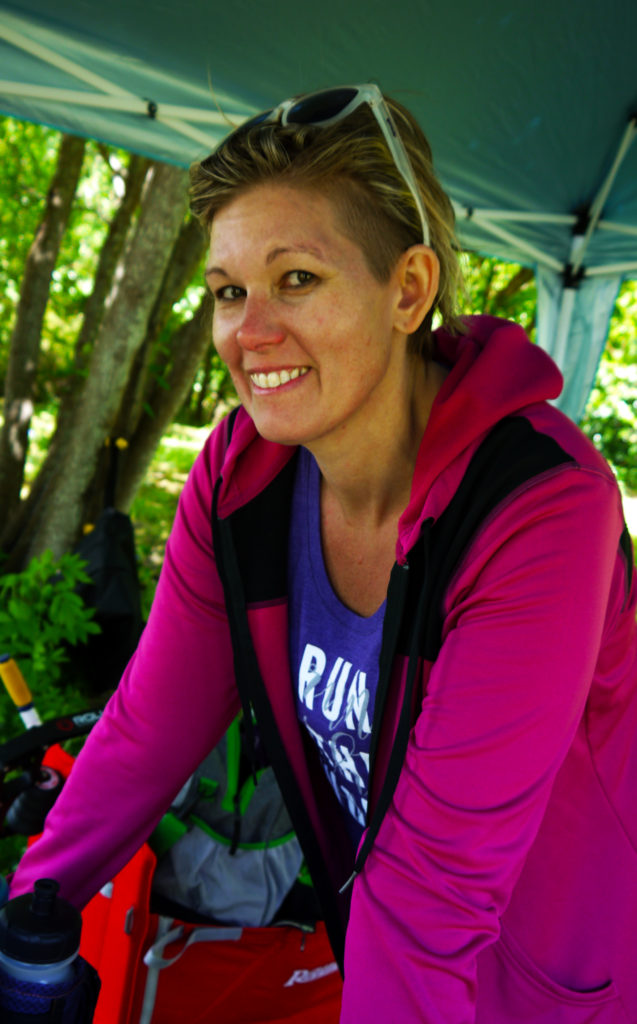 I want to give a shout out to our wonderful volunteers that helped not just during the race but before it…a week before, – clearing the trail! Adam and Laura Gross and, son, Soren came out to help us clear a lot of dangerously leaning trees off of the course. Michael Shelly-Moody and Bill Bailey also came out and helped move trees off the trail and cut back the ever growing shrubs along the sides of the trail. Jen Smith and Rachel Reese were indespensable on race day. Thank you, all!
There were some amazing performances at this year's DFL 24! We had several runners get distance PR's. Here are just some of those incredible feats performed by the DFL runners…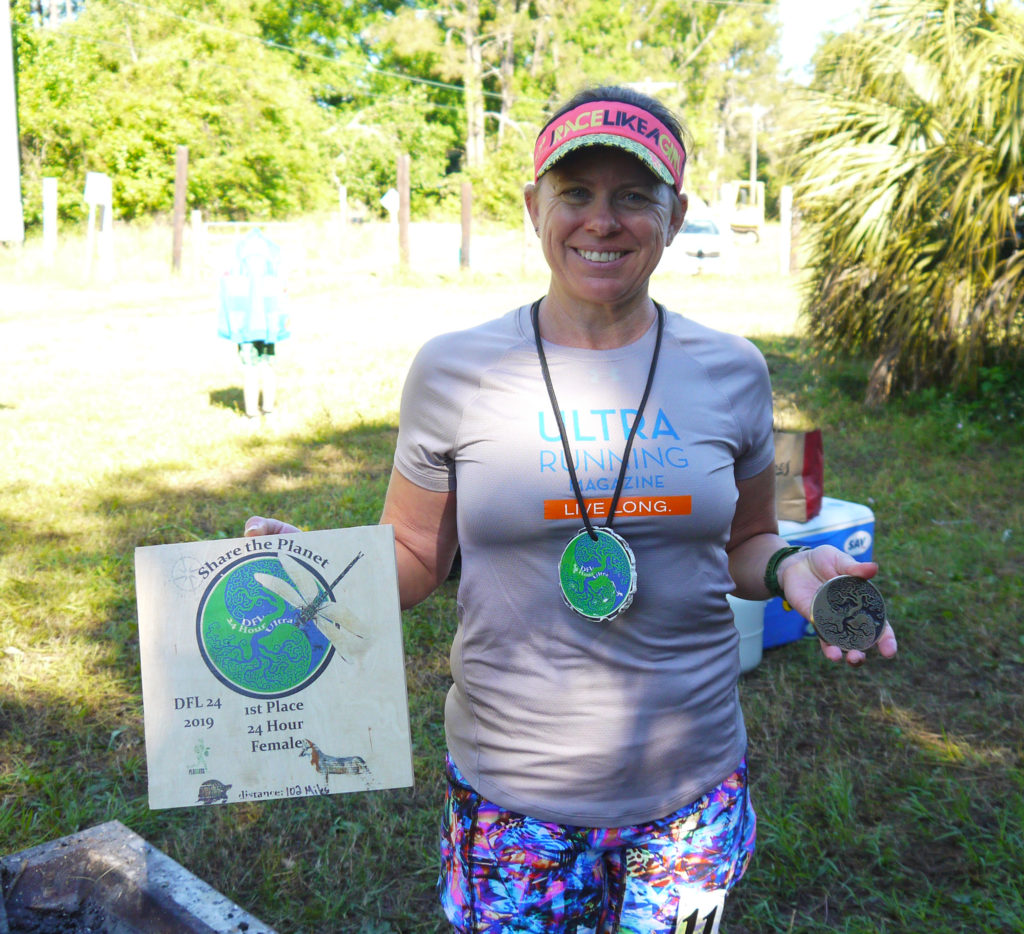 Sally Libonati came to the race on a mission and, she succeeded! She ran 102 miles in 24 hours on a course that can be quite demanding on the body. She was relentless in her pursuit of her goal and, nothing short of inspiring! Watching her race down the clock was so impressive! She was the only 24 hour runner to buckle this year. And, she also gets a DFL 24 signet ring.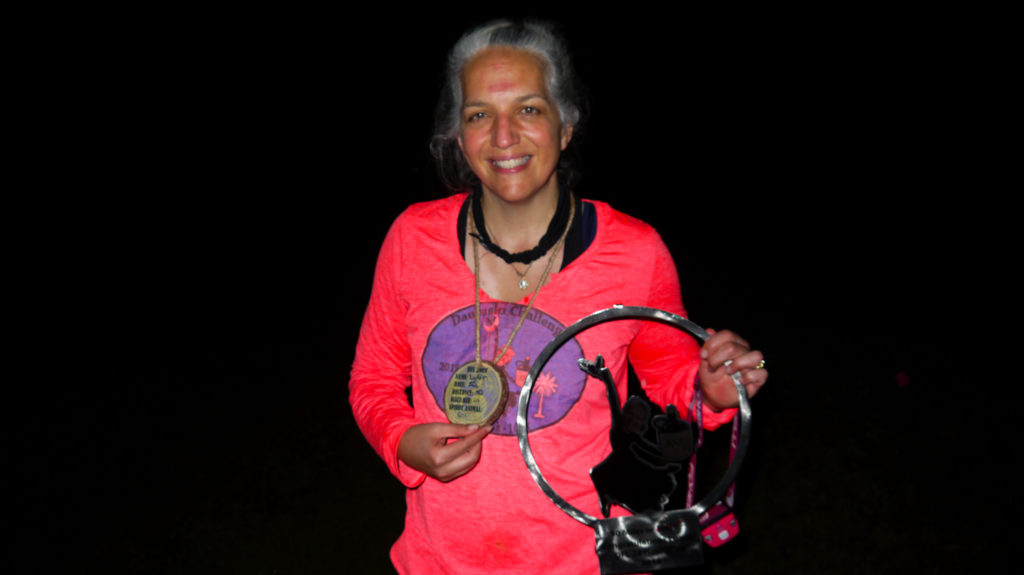 A close friend of mine, Luann Lucier, was chasing down her first 50 miler and, of course, she succeeded! Friends from all over town rallied behind her and helped her clinch her first 50 in the early hours of Sunday morning. It was quite moving to see her accomplish a goal she's sought out for the past couple of years.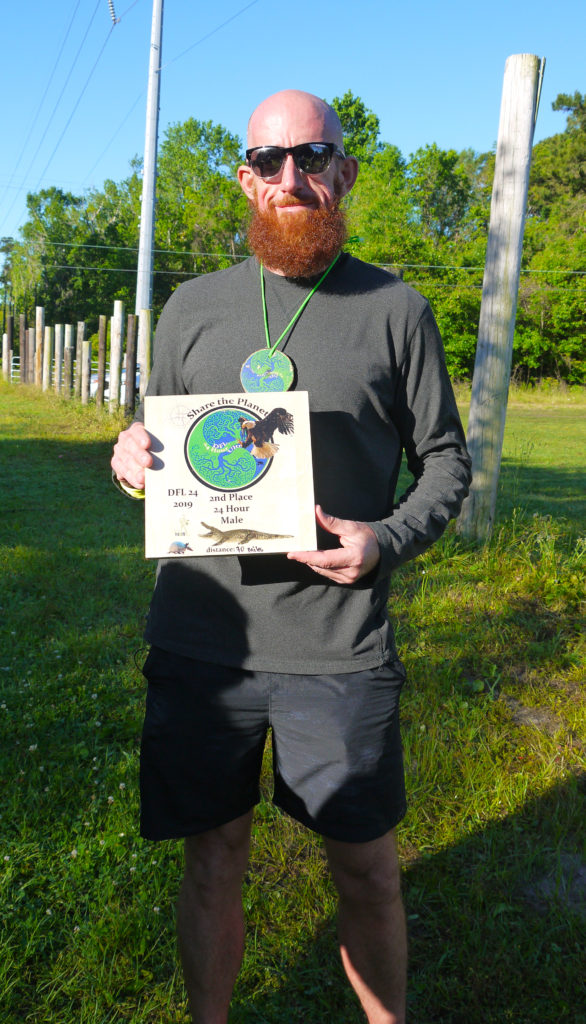 Brad Setzer went after his first ultra distance goal and ended up with 70 miles…mind you, his longest run to date had been 25 miles! This man dug deep and found the strength and perseverance to achieve an impressive milestone.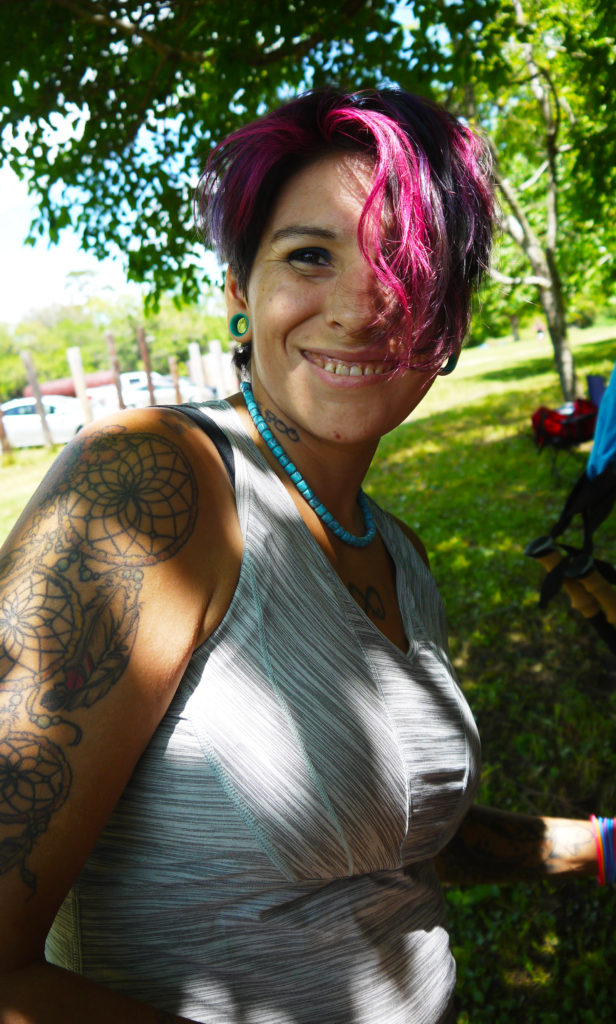 Speaking of milestones, there's Lindsey Dowling's impressive 52 mile finish for 24 hours after dedicating her race to helping Luann achieve her 50. This past January, Lindsey achieved her distance pr of 39.3 miles. She then went after her first 100 at the CGG 100 mile ultra. The race didn't go as she had hoped but yet, she reached another distance pr by running 75 miles! Three weeks later, with an injured hip, she cranked out 52 miles at DFL. That is quite amazing! She is an extraordinary human being!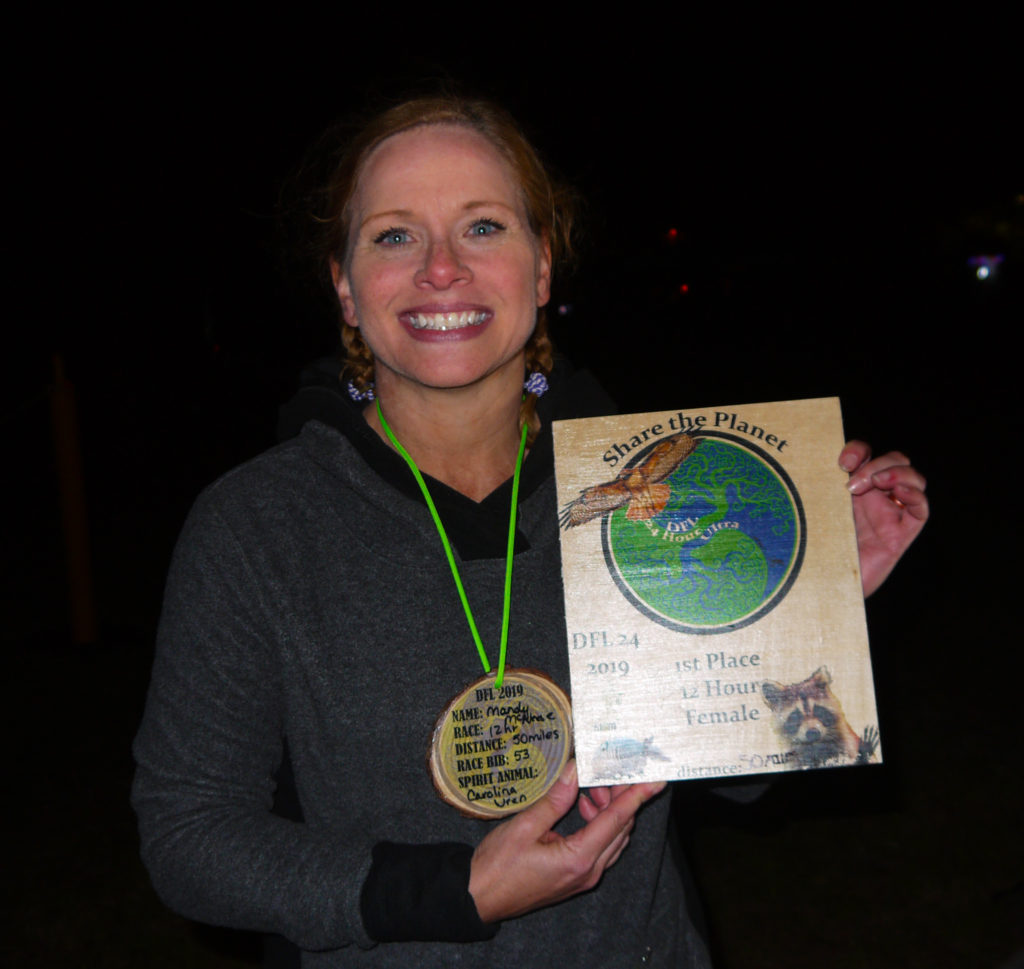 I've had the good fortune of meeting Mandy McNeese a couple of years ago at one of our other trail races (a Run thru the Woods). It was so awesome to see her get a distance PR of 52 miles and achieve it in 12 hours with a first place female award at DFL!
Adrienne Anderson made her ultra debut at DFL as a relay teammate on "None Fast, All Dubious".  Her 24 hour relay team ran a respectable 150 miles with her solo run distance of 54 miles, earning her 3rd place 24 hour female.  
Mary Owen signed up for 12 hours and ran a distance PR of 38 miles!  And, she did so with a smile on her face the whole time!
Chris Varnadoe cranked out 60 miles in twelve hours! Is that not amazing?!
Chris Novakoski cranked out 38 miles in six hours!  On this winding course, that is quite extraordinary!
Sixteen year old Soren Southard ran his first ultra and in six hours finished with 30 miles!  That's amazing!
Ace Brown signed up for the three hour race and ran 24 miles!  Again, this is not the fastest course and yet this young man made it look easy to run a lot of miles on it!
It was quite amazing to witness so many runners achieve PR's or, just to witness these amazing athletes run!  It is truly quite touching that so many runners chose our race to pursue their running goals and, to have them achieve and even, exceed their goals was just extra sweet!   
I say this all of the time…you could of chosen from so many other races that are out there but, you chose ours as your race.  We are so grateful for that.  That's why we work so hard and try to give you the best race we possibly can.  We want you to achieve your goals with no unnecessary obstructions in the way.
Here are some fun stats regarding this year's DFL 24.  
Sixteen 24 hour runners ran 886 miles.  That's like an average of 55 miles per runner.
Thirteen 12 hour runners ran 502 miles. That's like an average of 41.8 miles per runner.
Eleven 6 hour runners ran 266 miles.  That's 24.1 miles per runner.
Thirteen 3 hour runners ran 200 miles. That's 15.3 miles per runner
The total combined miles of all timed races was 1854 miles.  That's an average of 34.98 miles per runner
DFL had a total of 53 runners toe the starting line.
These stats also show us that although, all four timed races (3hr, 6hr, 12hr, 24hr) were popular choices, the 24hr and 3 hr were the most popular.  That's quite interesting, is it not?  I think we may start to see more 3 hour formats pop up at timed events.
Here are some more neat stats…
DFL in 2017 had 25 runners
DFL in 2018 had 30 runners
DFL in 2019 had 53 runners
When you look at the numbers of runners registering for the past three years for DFL you'll see again that the 24 hour and 3 hour time slots are the most popular.
This was the third and final year for DFL 24 For those that have wondered what DFL stands for, it's not, Dead Fucking Last. Instead, it stands for, Dairy Farm Love. I'll admit that the acronym was a play at Dead F'n Last, – ultra slang for the very last runner of a race but, I assure you, that Dairy Farm Love is the real meaning behind it. The reason is simple. It is at the Roberd's Dairy Farm that I found solace after losing two dogs to cancer and, the end of a heart wrenching relationship. It is at the dairy farm that I would go to commune with God and nature. It is where I would go to find peace and healing for my broken heart. Part of the healing process has been the making of the trail called "Gypsy's Trail" which so happens to be part of the DFL 24 course. Gypsy was a middle aged Australian Shepherd I rescued. He was with me as I began to carve out the trail through the dairy farm woods. Halfway through with the 1 mile trail Gypy's cancer finally caught up with him and I lost him as well. Again, the df was a place for my healing.
Bringing a 24 hour running format to Savannah was important to me. Savannah is a beautiful city with a very rich history and, that's what attracts many people to it as a vacation destination. That is great! I also believe, though, that Savannah is a great running location and race destination. Our hot muggy summer environment makes a strong runner. Our mild winters allow outdoor training year round. And, our flat geography lends itself for fast flat courses for record breaking especially, with the mild winters we have. Some of my thinking with the 24 hour format in Savannah has been that runners can come down to Savannah run and then maybe later, explore unique Savannah. Or, while one member of the family is running the others can explore this beautiful city of ours. Or, even better, everyone hangs out at the 24 hour venue and makes it a big family running party!
Be assured, the 24 hour running format in Savannah is not over with the end of the DFL 24. We will come back to it. These long races are so demanding. We need a little break from it especially since DFL is just three weeks after the CGG 155 mile ultra where sleep deprivation is the name of the game. We were not fully recovered from CGG before jumping into DFL. When we bring back a 24 hour running format there will be more distance between it and CGG.
In summary, the DFL 24 has been very special to me. I know that its been very special for our other two race directors, Kerry Dulina and Jason Edenfield. Without those two I would not have been able to make these races work. Without you that chose to run with us there would not have been a three year running of DFL. Thank you all for bringing life to this race and, to all of the races we hold as Rough Runners!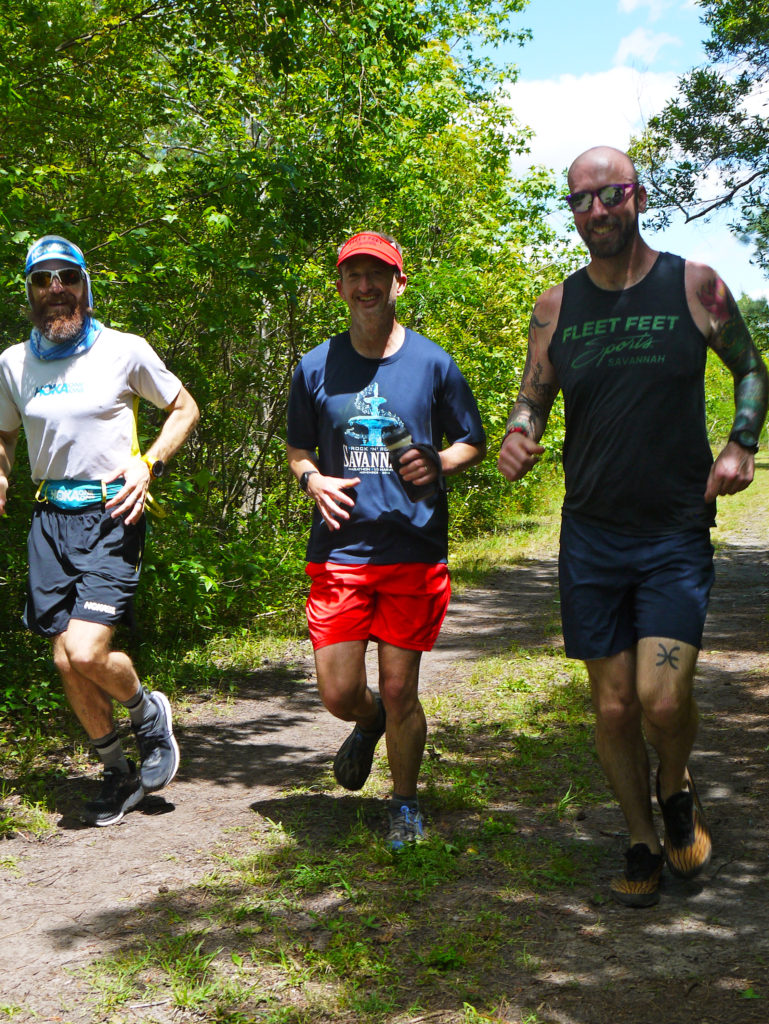 I am so very grateful to all of you that have been our bedrock of support for the races we put on. With you all we've been able to collectively accomplish so much…from running milestones to fast pr's to tens of thousands of dollars generated and donated to worthwhile charities -all, through these races! That's quite extraordinary! Thank you, all!
Important links:
Until the next one…
all the best…much peace.