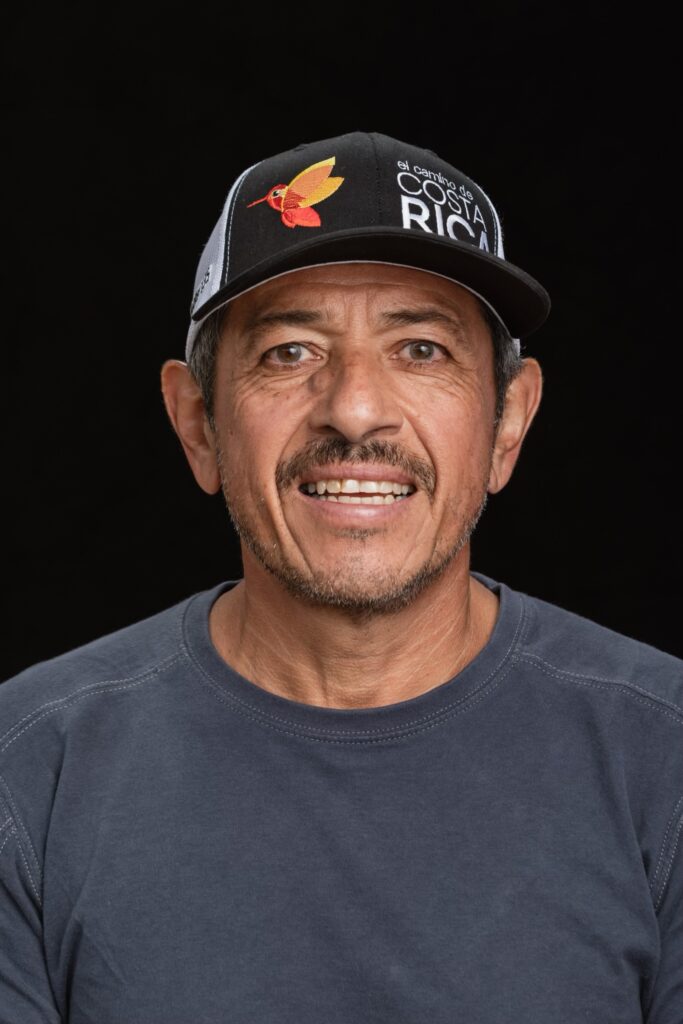 What makes a human want to run an ultra marathon? What makes them aspire to run 100 miles in one shot? 155? 208 miles? As a race director, I find myself wondering what makes a person want to run such long distances with little to no rest during that feat. I am intrigued by the people that take on the challenge of ultra running. Ultra running is by all definitions, hard. Running past the 26.2 mile threshold and into the ultra running landscape is very taxing on the body and on the mind. Yet, ultra running continues to grow in popularity and especially, in the longer and longer distances.
The ultra running standard distance is the "humble" 50k. This is a good place to introduce our Rough Runners Spot Light Runner, Ronald Vargas. Ronald started running in 2018 at 52 years of age. In that first year of running he ran a half marathon. One year later, at the recommendation of friend, Chad Frederick, Ronald signed up for his first ultra, the 2019 Badder Marsh 50k in Richmond Hill, GA. Ronald was 53 years old at the time of that race and finished at an impressive 5:40:56! Over the next four years he continued pushing the envelope. In 2020, Ronald leapt to the 100 mile distance in ultra running by completing the Coastal Georgia Greenway 100 (CGG 100), point to point, in 32:16:14. He ran that race with culprit friend, Chad Frederick. That was an astounding feat that I witnessed personally as that is one of the races I rd.
Ronald didn't just quietly break into the ultra running world. He busted through into it with a big bang! Since 2019, he has carved out quite a name for himself in the Lowcountry as a badass ultra runner!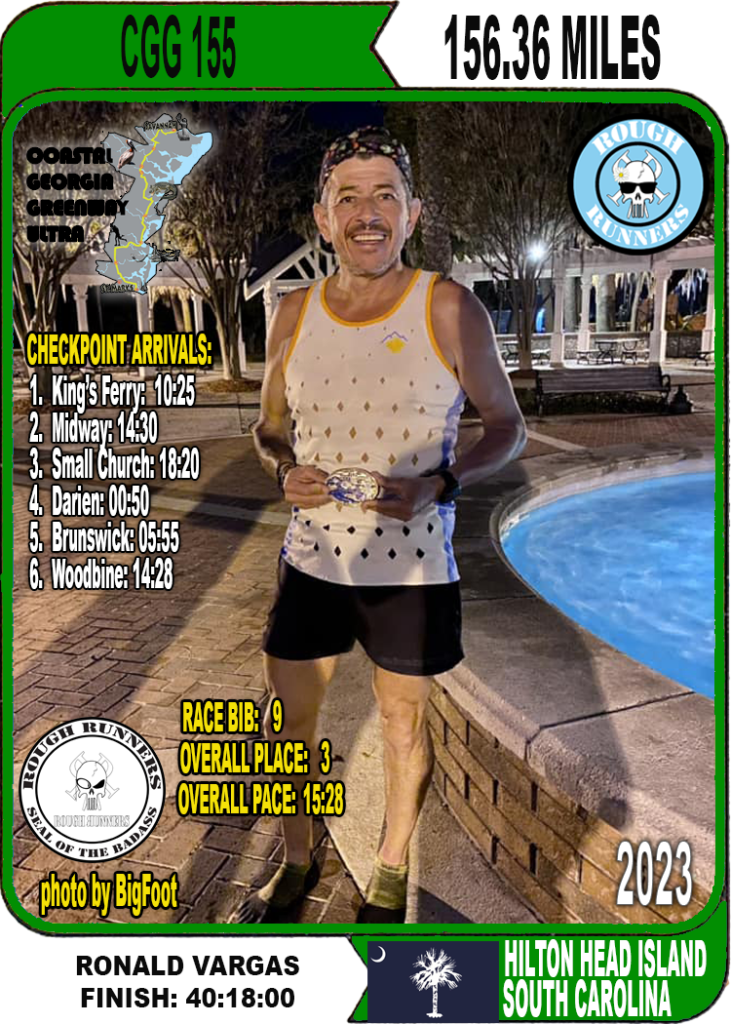 Below are a list of the 100+ mile races Ronald has completed since venturing into the ultra running world in 2019.
Since 2019, Ronald has also run numerous 50k's and other distances between the 50k and just below 100 miles.
Recently I had the good fortune of talking with Ronald about his running journey which I think is quite impressive and, worth sharing with other ultra runners, aspiring ultra runners or anyone that is just curious about folks that are driven to excel.
Ronald is from a small town in Costa Rica called Heridia. He moved to the United States in 1999 at the urging of the owner of the Greenery Inc. in Hilton Head Island, SC who was doing business in Costa Rica and the noticed hard working, Ronald Vargas and offered him a job in the US. Ronald arrived in HHI, SC on a friday of January 1999, and began working at the Greenery Inc. on the following Monday. He has been working there since. Aside from working at Greenery Inc., Ronald has a side hustle, pressure washing business. He works on average, 64 hours a week but still maintains a training schedule of 45-50 miles of running when not training for a race. When he's training for a race he runs 75-80 miles a week. He's a work horse!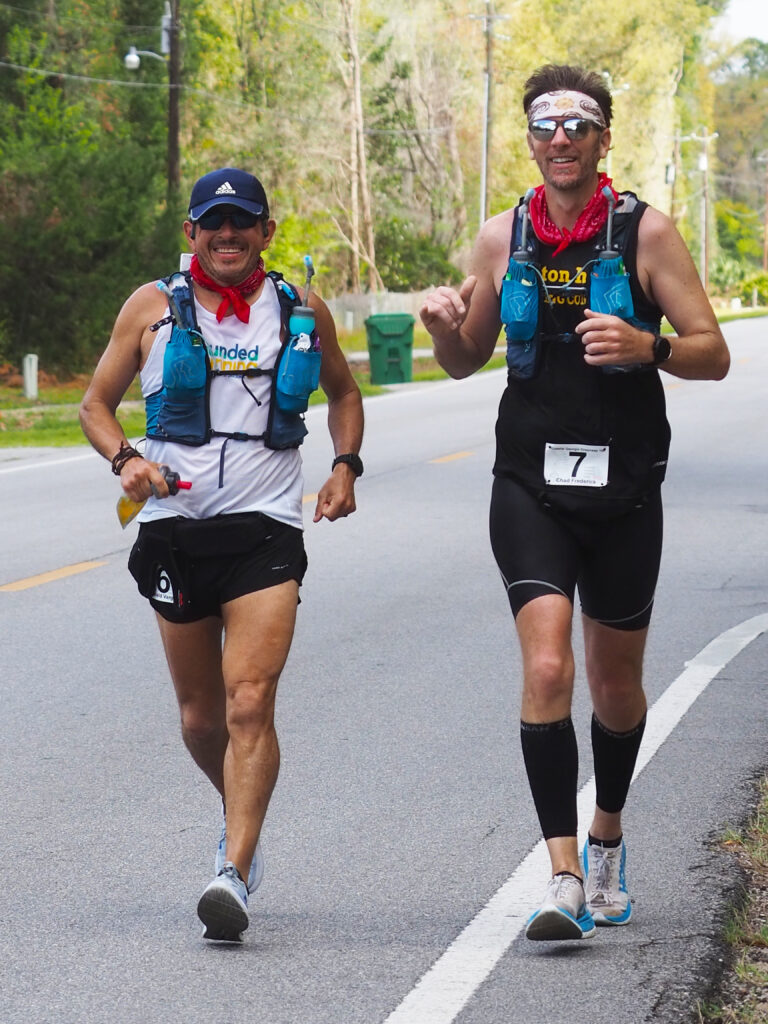 What brought you to running?
When I sat down with Ronald, I asked him a number of pointed questions about his running. One of the questions I asked was simply, what brought you to running? His answer was one that I can certainly relate to, – depression. Being separated from family, Ronald struggled with depression and anxiety. Running became the vehicle that helped navigate him to a better place, a happier place. There are many of us that can attest to the powerful stimulant of positivity that running imparts on us.
Well, running helped Ron immensely. The more he ran the better he felt. The more he ran the more the opportunities to meet other runners availed itself. Interestingly, on a side job with Greenery Inc., Ronald crossed paths with Chad Frederick, who works in the home construction business. They quickly bonded and Chad invited Ronald to run with him. From there, a very wholesome friendship developed. I've known Chad for many years and can attest to what an amicable, wonderful human being he is. So, when Ronald told me how Chad just walked up to him at that particular job and started a friendly conversation I was not at all surprised. That was the same way that Chad and I met back in 2016 after a race that I hosted and that he had just completed. Chad is just that kind of guy that will warmly welcome you as a friend.
The ultra running community in general is very welcoming and it becomes addicting because of the genuine love you feel in it. Many ultra runners that I know (me included) have mental health problems and, being in a community that is so loving, embracing and judgement-free quickly makes you yearn for more and more of that. The "ultra running family" is a real thing.
In a lot of ways I feel that the "New Colossus" poem on the statue of Liberty should be the ultra running communities creed: "Give me your tired, your poor, Your huddled masses yearning to breathe free, The wretched refuse of your teeming shore. Send these, the homeless, tempest-tossed to me, I lift my lamp beside the golden door!" Does that not sound like the welcoming embrace of the ultra running community? I think so.
Training and diet
I really wanted to pick Ronald's brain about everything running. So, I hit him up about his training and diet. When it comes to diet, Ronald pretty much eats what he wants. He always starts off his day with a hearty breakfast mainly consisting of fried eggs, bacon, toasts and coffee. His lunch tends to be bigger than his dinner. Lunch consists of Mexican food at local HHI restaurants. While in training mode, Ronald consumes a lot of carbs and proteins and, eats lots of fruit. While not in training mode, he greatly reduces his carb intake as he has a tendency to put on weight easily and, is unable to shed it off as easily.
As previously stated, when in training mode, Ronald runs 75-80 miles a week. That's a lot of calorie expenditure. To stay strong and injury-free you have to eat. Ronald's protein intake choice in solid food is bacon and salmon. During races he replenishes much of his protein via protein shakes, though.
When Ronald ran the CGG 155, he had a big breakfast of 2-3 eggs, bacon, toast and coffee three hours before the start of the race. The first 20-24 miles of his run he relied on precision gels and a hydration sports drink. After twenty-four miles his body craved solid foods, understandably.
During long hauls like CGG 155 and BigFoot 200, Ronald will consume lots of bacon, chicken noodle soup, crackers, oranges, tangerines, avocados and peanut butter and jelly sandwiches. During the BigFoot 200, Ronald was able to take in calories with Maurten drink mix which gave him 320 calories per packet. He also subsisted of egg, bacon, spinach, cheese wraps from the BF 200 aid stations. He said that those wraps were life savers during that difficult race.
During the CGG 155 mile ultra, Ronald expended roughly 19,000 calories. During BigFoot 200, he expended roughly 28,000-32,000 calories. How did Ronald know how many calories he expended? He has an app on his phone to record his caloric intake and loss.
During BigFoot 200, Ronald also consumed a lot ice and coca cola as he was running a fever during three days of the race. The ice helped with the fever. The coke gave him the sugar spike to go on and it was easy on his stomach.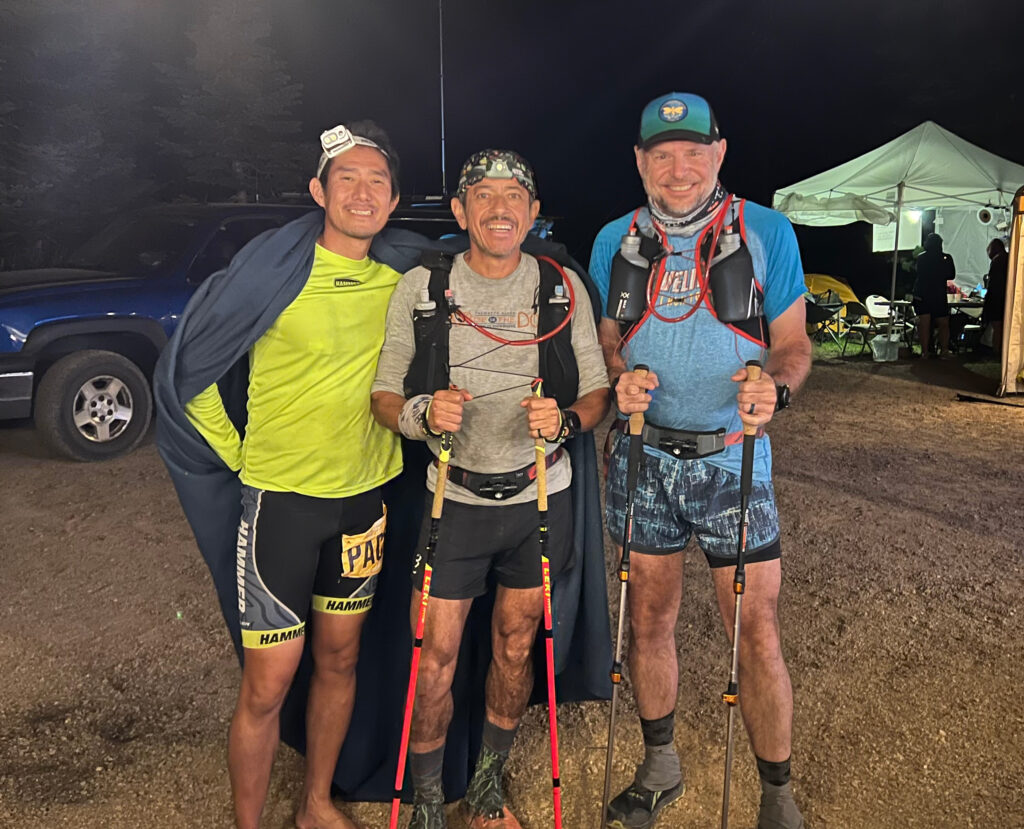 BigFoot 200 experience
BF 200 is Ronald's biggest race to date. This was the big kohuna, if I may. There were so many of us in the Lowcountry that were so excited about this race for Ronald. This race is a BIG DEAL! And, we all knew that. So, we anxiously wanted information about how he was faring during this race.
One of the first nuggets of information that I received about Ronald at BG 200 was that he was running a fever and had an upper respiratory infection. That was very concerning. Ronald, though, is about as tough as they are. I thought it's gonna take a lot of bad shit to bring this man down.
Ronald had a great crew with him that would do anything to help him in feeling better and continue moving forward. Ronald's crew was Nhan (Yen) Trung Nguyen and Scott Owenby. I don't know Yen but I've heard he's a great runner and a good friend of Ronald's. Scott, on the other hand, I've known for quite a few years. Scott, in his own right, is an exceptional athlete and ultra runner. Scott is a perfectionist and a very driven man. He's also a very compassionate man. As a running crew mate, I've come to refer to Scott as the Finisher. By that I mean, that anyone that Scott crews he will do his utmost in helping that runner realize their goal and finish their given race. I've watched Scott bring home runners that more than likely would not have finished their race if it wasn't for him. Scott will go the extra mile in helping you achieve your running goal. So, I knew that Ronald was in great hands with these two crew mates.
Scott and Yen kept Ronald moving, fed and hydrated. They advised him when to rest. They managed the logistics of the race so that Ronald could focus on what he was out there for, – run the BigFoot 200. Ronald stressed during our conversation that he would not have been able to complete the BF 200 without Scott and Yen. I believe any of us that has run the 100 mile distance would agree whole-heartedly with Ronald's assessment of Yen and Scott. Having good crewmates during a 100+ miler is worth their weight in gold. The success of such a long run is dependent on the quality of the crew that you choose for that goal.
Despite having this great crew team, Ronald ran a fever for three days of the race. His body did not want solid food. That's where the Maurten drink mix became vital to his caloric intake. Due to the fever, he was overheating and required a lot of ice to help bring down his body temperature. Coca cola eased his stomach discomfort and gave him the sugar high to keep pushing.
Ronald had to make a few stream crossings that would challenge anyone especially with the air temperature at 38 F but for Ronald the stream crossings were therapeutic. They helped keep him cool when his body was burning with fever.
Finally, after three days, the fever broke and Ronald craved solid foods. That's where the manna (bacon, egg, spinach, cheese wraps) from the aid stations gave him the needed strength to continue onward.
Ronald had many mini goals during the BF 200 to keep him focused and moving. Ronald told himself that if he could reach 65 miles in twenty hours he would be fine. He hit that mark in 18 hours. He then focused on crossing 108 miles in 40 hours, He reached that benchmark in 37 hours. It was mini goals like this within the race that kept him moving forward and kept the reality of finishing the race real for him. Despite those small wins, Ronald still struggled. He told me that actually at mile 63 he seriously contemplated quitting. It was Scott who advised him to take a nap before making that decision. A 45 minute nap got Ronald moving again. Every ten miles, Ronald would re-evaluate how he felt. That also kept him moving forward.
As Ronald made it to the aid stations he would hear the bib numbers announced of the runners. He also learned at those aid stations that a lot of runners were dropping out. That seemed to trigger something in his mind and he began to tell himself that he did not want to dnf. That "no dnf" trigger kept him moving from aid station to aid station.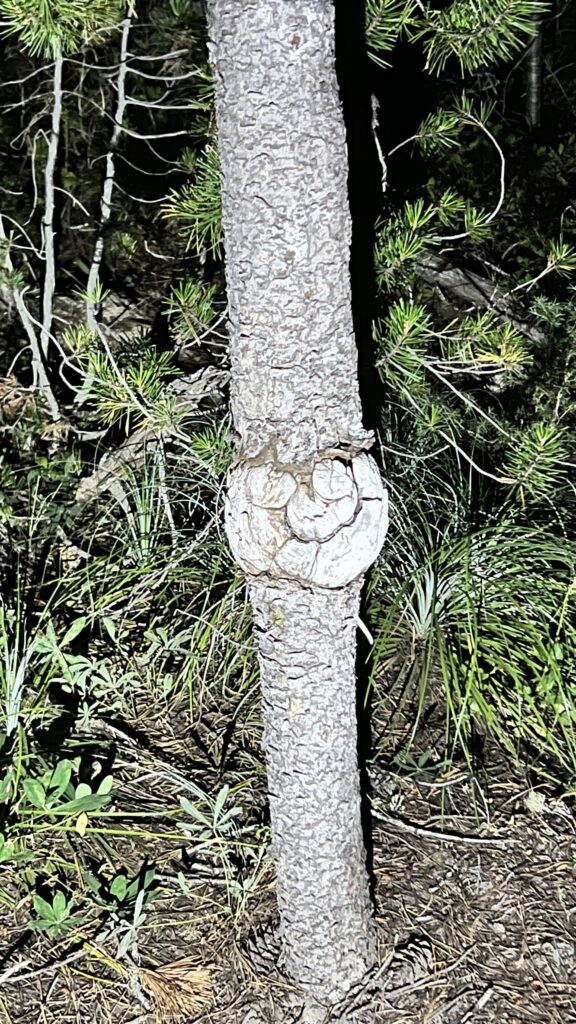 Hallucinations
A severely fatigued, sleep deprived human being who also happens to be running a fever will sometimes see things that are not there. Sometimes, he will even hold a conversation with a hallucination. Ronald experienced two hallucinations during BF 200. One of the hallucinations occurred during the 104 mile mark. There was a log along a stream or, was it just on the ground? I cannot recall exactly whether Ronald said it was a wet or dry environment but the log was there and, the log was actually, a whale. In this light moment of delirium he thought clear enough to wander what a whale was doing so far inland and along the course of the BF 200. Nevertheless, Ronald was on a mission and, the whale mystery would have to wait to ponder about at another time.
Continuing onward, another hallucination would rear it's monkey face from a contorted knot in a tree on the BF 200 course along mile 135. Ronald caught the monkey creepily staring at him. So, he said something to the monkey only to have the monkey respond back to him. Ronald continued the conversation with a monkey in a tree that only he could see. Never mind the most common question that would of been on my mind such as what kind of monkey lives in the trees of the state of Washington. And, what monkey has evolved well enough to speak English and hold a conversation with a human being. There's no time to ponder that. There is a race to be run. Ronald, continued onward.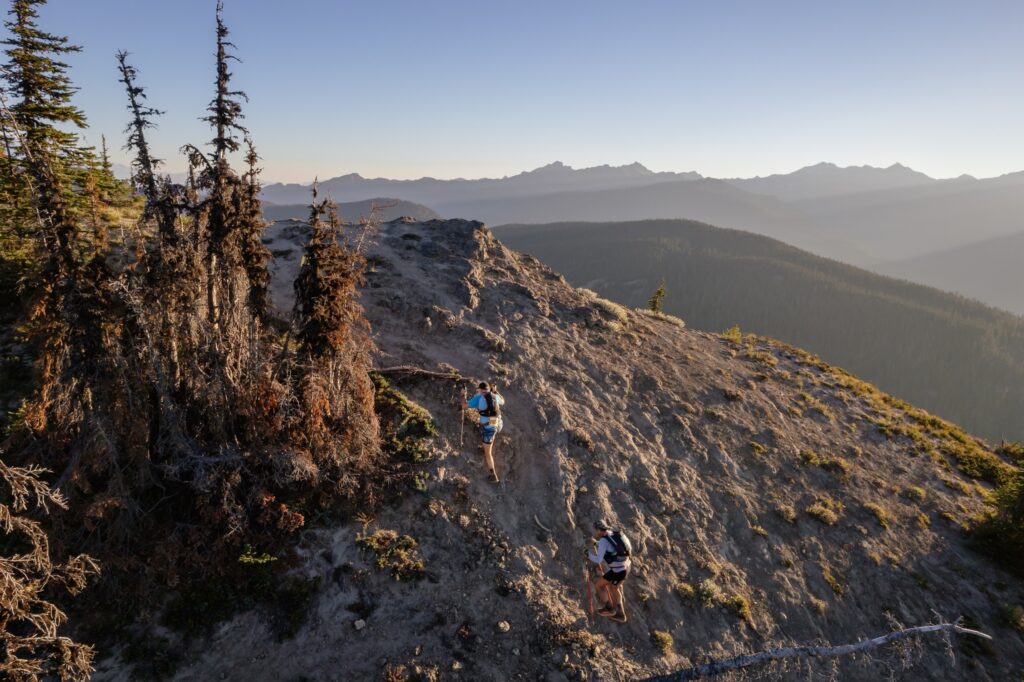 Finishing up
The BigFoot 200 is actually 207.9 miles long. You have 107 hours to complete it. That roughly breaks down to 4.45 days to run a very LONG distance over very rugged, varied terrain. Runners start off at approximately 2200 feet in elevation and climb as high as 7500 feet. By the time you cross the finish line you will have amassed 47,000 feet in gain and 39,000 feet in loss. That's significant.
Going into the race, Ronald set a personal goal of completing the BF 200 between 90 to 100 hours. He completed the race in 94:21:53. Interestingly, he would of finished the race in approximately 91 hours but chose to wait on finishing so that his family in Costa Rica was awake to watch him finish as the race had live coverage of the finishers. So, he chose to sleep for three hours so his family didn't have to be up way too early in the morning to catch him finishing. When Ronald told me that I thought, that is just like Ronald, – such a thoughtful person. He delayed his finish of the BF 200 so that he wouldn't burden his family by having them wake up way too early in the morning.
Crossing the finish line was a culmination of emotions. It was a year of planning, months of intense training, running for his health (both physical and mental), running for his family; -representing Costa Rica and his heritage…all of this wrapped up in his final victory lap that took him across the finish line. Thousands of miles away, so many people rooting and praying for him. Close friends helping him realize his goal. The joy of reaching a long sought out goal. Wow, what a moment that must of been. All of that finality as Ronald crossed the finish line. Where do you go from here?
Where do you go from here?
One week after such an epic experience Ronald returned to work. He has since done two runs, a 5 miler and 8 miler. He lost 5 toenails and 8 or 9 pounds. He has an overwhelming feeling of gratitude, – gratitude to be able to complete the goal of running the BigFoot 200. He feels gratitude for his family and friends that stood with him along the way, encouraging him, praying for him, keeping him steady and focused as his body desperately wanted to quit.  Ronald had the will and stamina to get himself to the end. His crew mates and positive good vibes and prayers of numerous folks kept him focused on the end prize. 
I asked Ronald, what's next? He said Stevi's Roost 48 hour ultra this September. Of course, that brought a smile to my face as that is one of our races but honestly, the best part of that answer was that he wants to run Stevi's Roost, have fun and chase down another 100 mile buckle.
Ronald is a good man, a good friend. I am so very proud of him and, celebrate his amazing victory.  Great job, Ronald! Thank you for being such an inspiring human being!