The Coastal Georgia Greenway 155 mile ultra 2018 is a 60 hour USATF Sanctioned running event held by Run 4 a Reason. It had a total of two runners, Steve Barber of Oakridge, Tennessee and, Catherine Weimer of Neshanic Station, New Jersey.
The event began on Hutchinson Island, overlooking River Street in downtown Savannah, Georgia. The event ended in St. Mary's, Georgia, 155 miles later.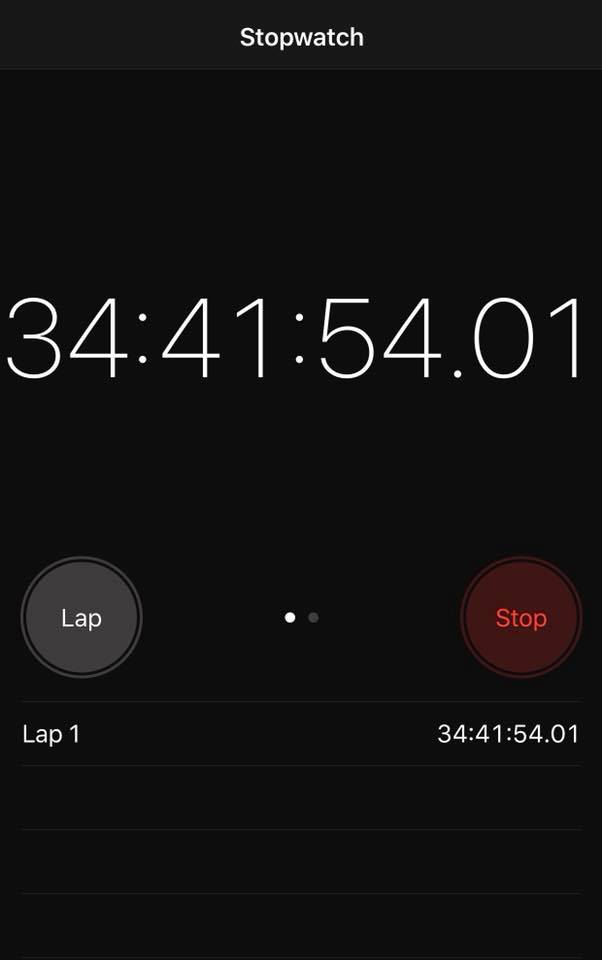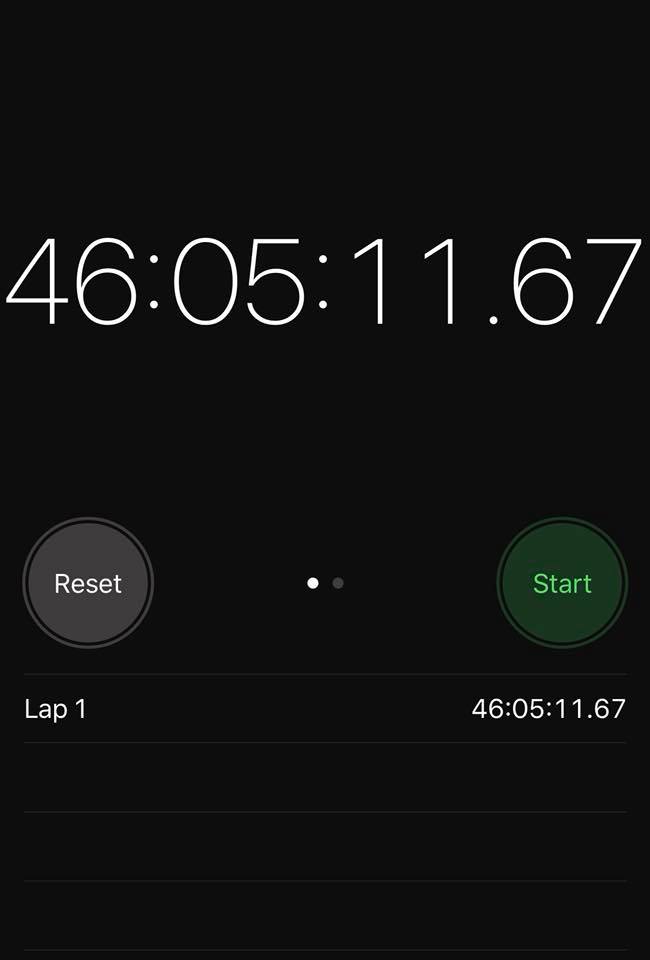 Mr. Steve Barber completed the journey first with a finish time of 34:41:54. Mrs. Catherine Weimer finished the sanctioned event in 46:05:11.
There were five mandatory checkpoints along the course that we (the Run 4 a Reason team) manned where we checked on the overall fitness of the runners as they came by and stamped their race book (each runner carried a waterproof race booklet that contained a very detailed race course). At each checkpoint, the runner's booklet would get a stamp to show they had crossed that section of the course and would proceed to the next checkpoint. The booklet covered the course very intimately, detailing areas that might have heavy traffic, road construction, and/or may be sketchy.
Before the event, we covered the aspects of the course with the two runners, making sure they understood the layout of the book and, how to proceed in areas that might have heavy traffic and such.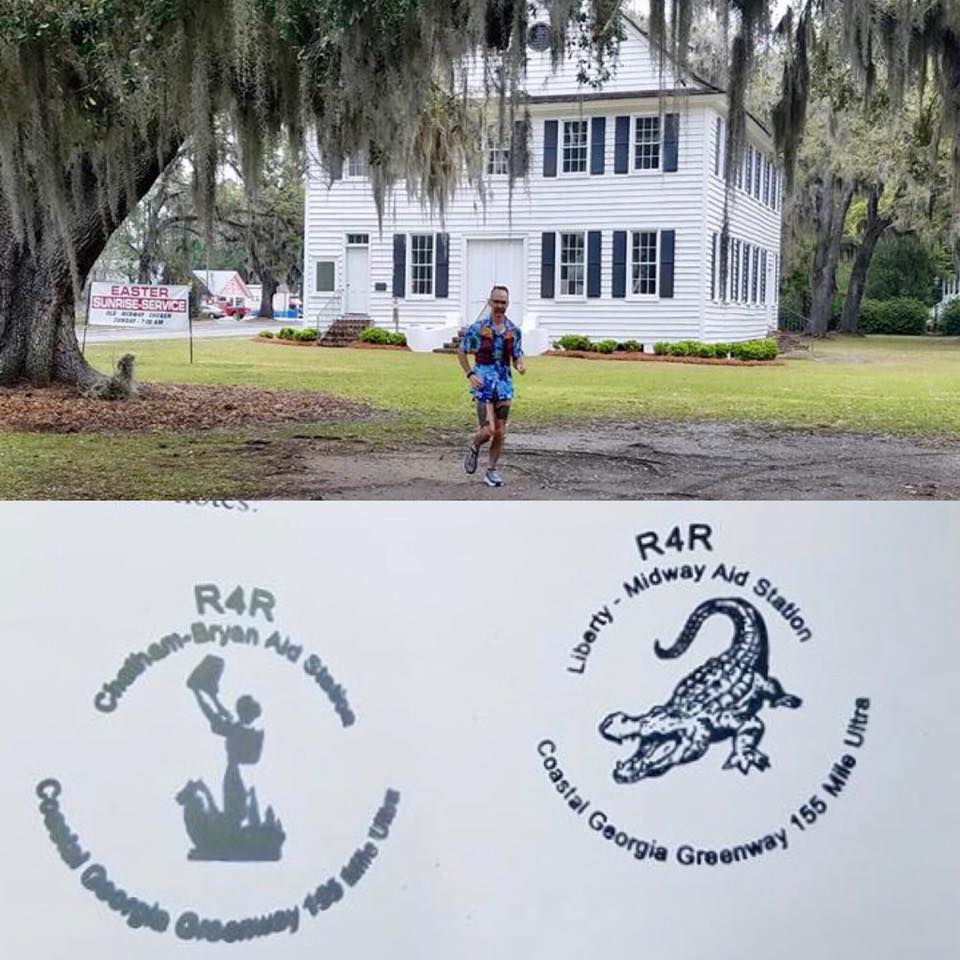 Mandatory check points:
1. Mile marker: 0, just outside of the International Trade Center, 1 Internaional Dr, Hutchinson Island, Savannah, Ga 31421
2. Mile marker: 29, King's Ferry
3. Mile marker: 45, Hwy 17 and Martin Rd, Midway, Ga. across from Old Historical Cemetery.
4. Mile marker: 58.1, Smallest Church in America, Townsend, Ga 31331
5. Mile marker: 83.5, Darien Waterfront Park, Darien, Ga **This is a new checkpoint starting in 2019**
6. Mile marker: 101, Windsor Park in Brunswick, Ga, off of Ash Ave.
7. Mile marker: 129, Satilla River Waterfront Park, Woodbine, Ga 31569
Prior to 2018, the CGG 155 had a three year history as an invite only group run. The prior runs never had more than five runners at a time. The 2018 event marked the first time it was sanctioned and open to registration by runners that were not in our inner running circle. This made the 2018 event very special.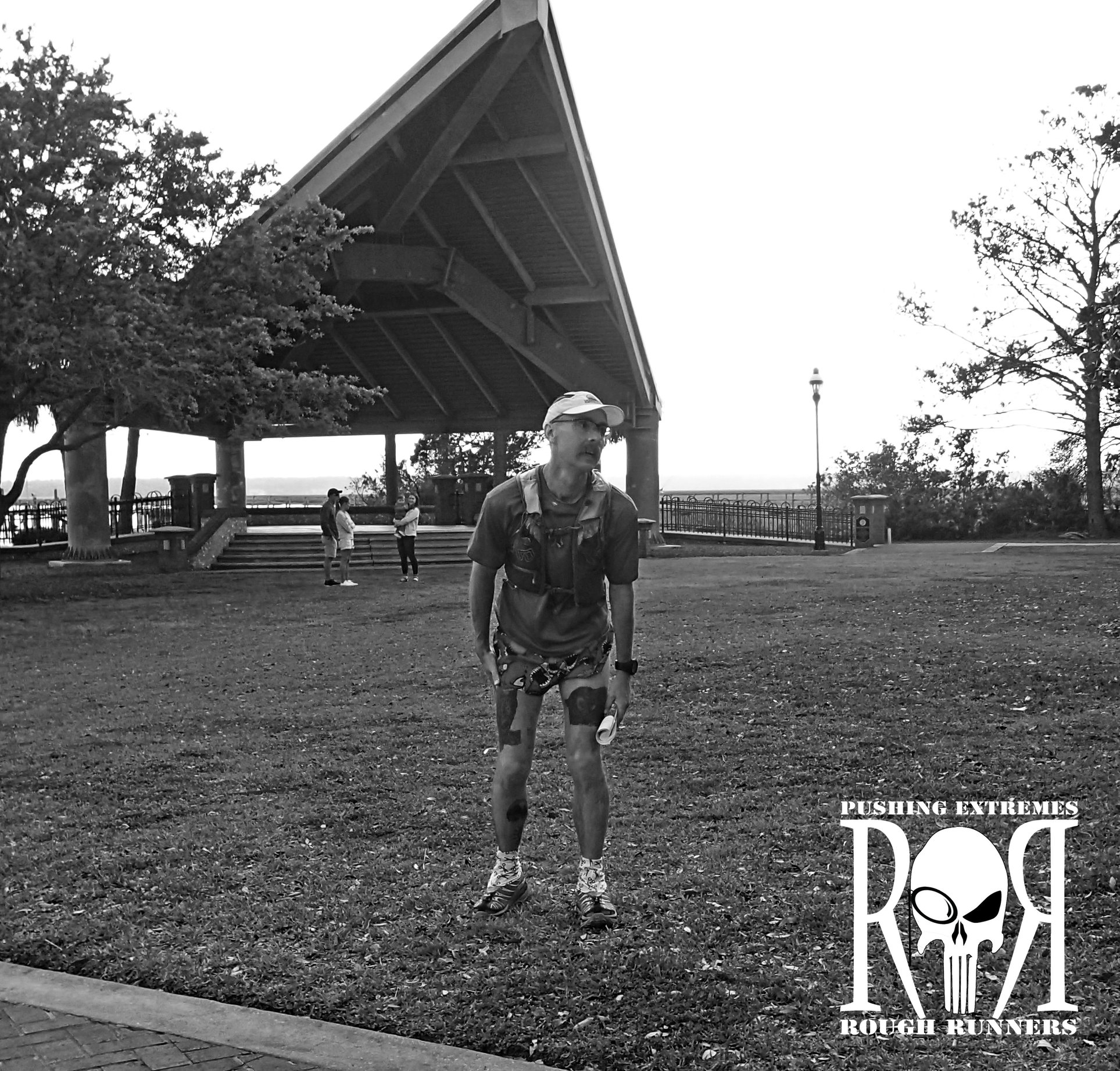 Mr. Barber's finish time was amazingly fast for a point to point event spanning six counties, nine municipalities -on open roads and trail systems.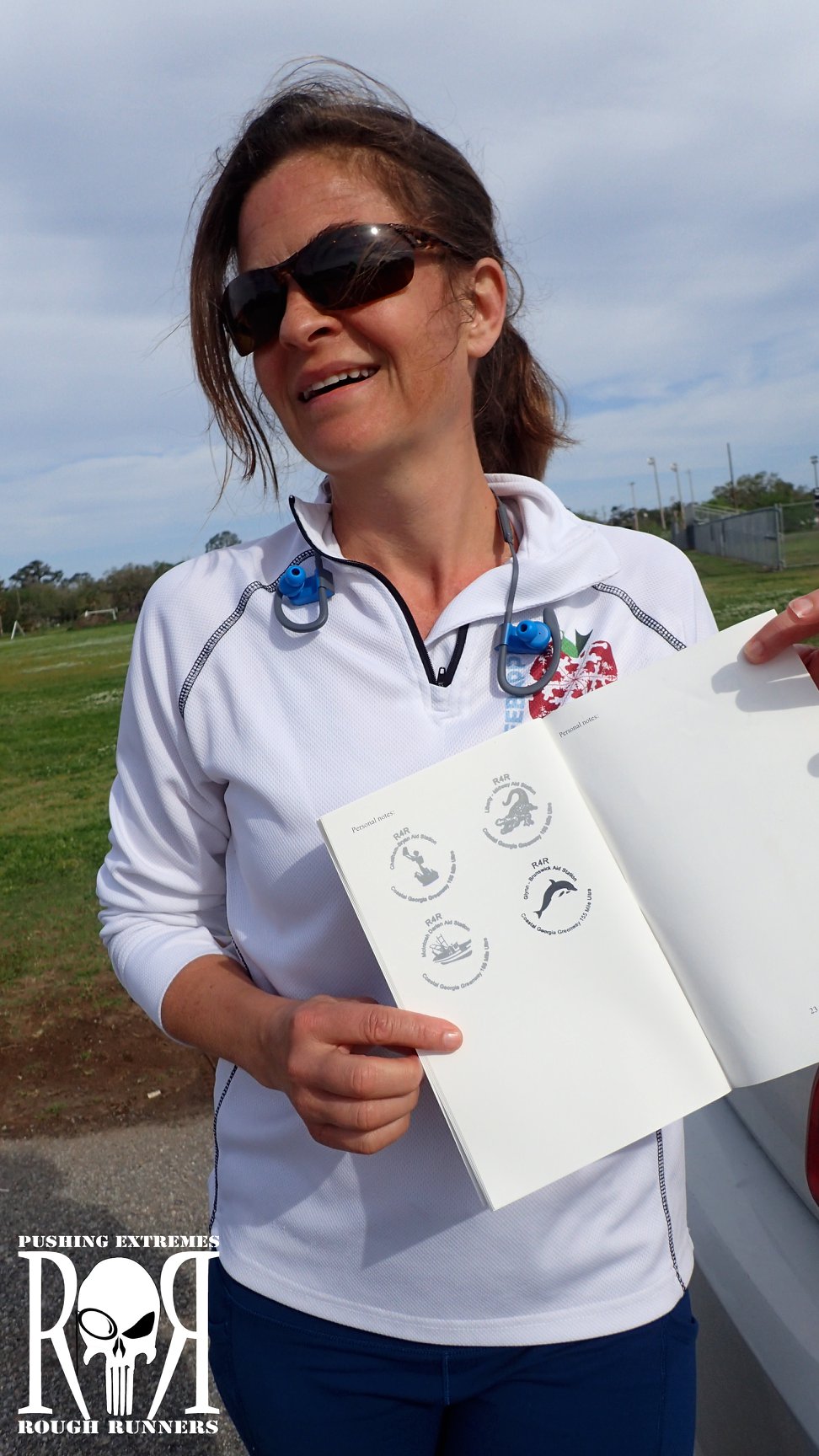 Mrs. Weimer was the very first female to attempt and complete the CGG 155! We were very proud to witness her strength, will and determination to complete this long, arduous run! Both Mr. Barber and Mrs. Weimer exhibited tremendous athletic ability, strength of mind and character in executing and completing this event. I cannot emphasize enough how very impressed and proud I am of these two exceptional athletes!
During the entire duration of this event we were constantly in contact with each runners' support crews. The runner's support crews were nothing short of exceptional! They watched over their runners, ensuring their safety and that their runners were properly fueled through-out their respective journeys. The two runners were so well taken care of that it allowed them to focus on executing on their race entirely.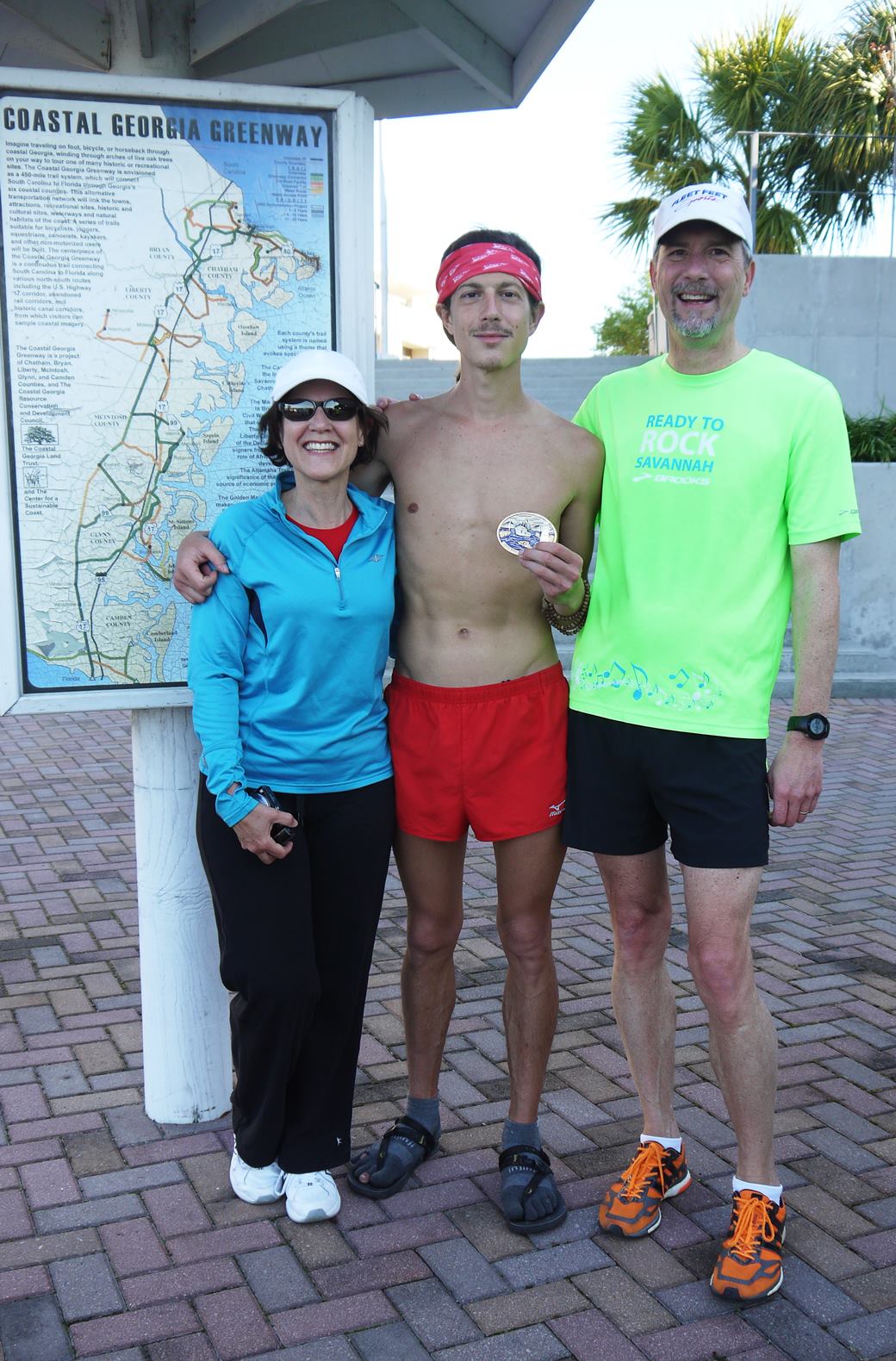 To date, aside from Mr. Barber and Mrs. Weimer, only three other runners have completed the CGG 155 Mile Ultra. Those runners are Karl Joseph, John Durant and Andrew Snope. All three runners are from Savannah, Ga.
This USATF Sanctioned event will be held annually, the last weekend of March. The 2018 event drew a lot of curiosity and attention and, is bound to draw the interest of many more runners nationally. Already, several runners have contacted us about their interest in running this event in the future.
We feel confident that this event will bring much attention to the Coastal Georgia Greenway and the Eastern Greenway. It has the potential for bringing an economic incentive to the coastal counties of Georgia and it's towns and municipalities.
The results of the 2018 event can be viewed here at ultrasignup: CGG 2018 Official Results
The 2019 CGG 155 mile ultra will take place on March 29th through March 31st.
Registration for the 2019 race will open on ultrasignup.com on June 1, 2018.
Registration site: CGG 2019
Warm Regards,
Dan Hernandez
Jason Edenfield
Run 4 a Reason
Race Directors